S.Michael Rayappan, who produced Simbu's AAA, talked to the media revealing information and putting forward his worries and demands with respect to the film. He had released a press note and he along with director Adhik Ravichandran, have put forth their concerns regarding the losses that AAA brought him. Talking to the press, S Micheal Rayappan said:
"Simbu owes me Rs 20 crore for the loss that AAA has incurred as I have to pay distributors. This money is exclusive of the property and everything else that I have lost. The sole reason is Simbu and his false promises. He promised to come to the shoot and complete the film on time but it just did not happen. In fact, he told me he does not even have Rs 5,000 rupees to give to people.
However, I don't want another person to get cheated by these false promises and I want him to give back the money that he owes us. I had tried numerous times to contact him initially but only realised later that, he is trying to avoid me and not going to pay anything. This issue has been raised to the producers council and I hope for a solution really soon. Simbu has property worth Rs 400-500 crores and I am sure he can pay me back. I don't know in which form he has the money but he definitely has it. It is honestly painful to be in my position and I hope we get what is due to us. "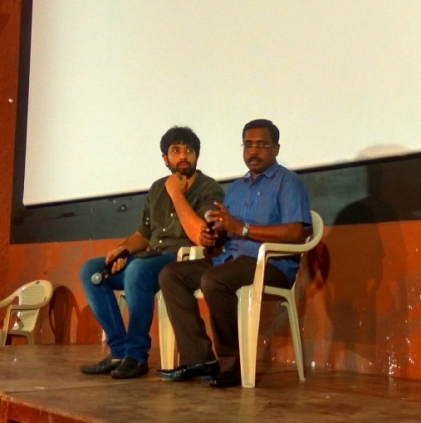 Producer Michael Rayappan of Global Infotainment is known for delivering notable films in Tamil Cinema like Naadodigal, Miruthan, etc. He had last produced STR's Anbanavan Asaradhavan Adangadhavan, directed by Adhik Ravichandran, which was a big failure at the box office. There were many controversies surrounding the film and STR was blamed as the reason behind the failure. Now, the producer himself has officially issued a heartfelt statement, in which he has revealed the full details of AAA production.

The statement reads, "Due to the utmost passion that I have for cinema, I've produced 12 films in the last nine years. Though there have been quite a few failures, in these films, there was a heartfelt happiness for me, about giving job opportunities and salary to at least 500 people. That pushed me to do more and more films. But, never in my dreams, I thought that a film called Anbanavan Asaradhavan Adangadhavan with Simbu would push me into a miserable state like this.

He sent Adhik Ravichandran to me, only after he finished listening to the story and knowing that he will be playing three different characters. He knew that the film starts in Dindigul, and then travels to Dubai, Chennai and finally ends in Kasi.

At this juncture, I am responsible to make people aware about what happened at the shooting of AAA.

The office was put up on April 9, 2016, and the shooting was planned to start from the end of May. No heroine in the industry is ready to act alongside Simbu. Trisha, who was supposed to act, returned back the advance. We approached Lakshmi Menon, who also rejected the offer. Finally, Shriya Saran agreed. While the planning was on, Simbu continuously interfered and changed the shooting locations. He said the climate would be very hot in Madurai to shoot, and asked us to shift to places like Mysore, Goa, and Kochi. Months passed, and we (director and production team) finally decided to shoot in Dindigul. Simbu said he wouldn't come for the shoot, as there was no star hotel in Dindigul and wouldn't come to shoot in a public place. He also warned that he would stop the shoot if there were public crowd. On top of all these, he said he wouldn't shoot on Sundays. Finally, after crossing all these hurdles, we started the shoot in Dindigul on July 9, 2016.

He would only decide the shooting dates and would allot the call sheet timings. But he wouldn't turn up to the shooting spot, as per the call sheet timing.

After the end of the first schedule, we just had a song shoot left to be canned with Simbu and Shriya. He claimed that Shriya isn't good, and wanted us to replace her with another heroine, and reshoot the whole portions. So, we opted to skip the song shoot. For the second schedule, we planned to travel to Dubai, but Simbu pointed out the hot climate in Dubai and asked us to shift the location to London. He delayed the shoot. After two months of talks, he finally agreed for Dubai. Then, he said that he would reduce his weight and come for the shoot. But he didn't do anything to reduce the weight. Without no other choice, with the same body physique, we shot Ashwin Thatha's portions in Chennai.

He knew prosthetic make up would take three hours to get ready for the character, and hence he said he can't undergo those makeup sessions. Adding to this, he asked us to change the face in CG, if needed. He then didn't turn up for the shoot on the mentioned dates, and the shooting was cancelled on many days, due to him. His idea was to push the film's release. While shooting in Mayajaal, he stayed in a hotel room in ECR. Just because of the executive producer Subbu, asked for the hotel expense details, Simbu made an argument stating that he would come for the shooting only if Subbu is removed from the film. Without any other choice, he was changed.

Because of him, everyone including Tamannaah, Kovai Sarala, Motta Rajendran and legendary actor Neelu were also badly suffering. We finished that schedule somehow, and the third schedule planning was underway. He said that he would reduce the weight this time, and asked three months of time.

We decided to shoot in Dubai, but he told to shoot in Singapore. Finally, it was decided to shoot in Thailand, and location scouting happened. Heroine names like Pooja Kumar, Neetu Chandra, Sana Khan, kept changing. Even before the core team could go, Simbu's team of assistants went to Thailand and had a happy leisure time, in my money. Simbu didn't go for the shoot, and I was horrified. I ran to his house, to ask him why he didn't leave to Thailand. When I asked, he said that the movie is coming out well, and let us split the film into two parts and release it. He also said that he would act in the second part, without getting the salary. He asked me to agree and if I didn't, he said, it'll take another year and a half to complete the remaining shoot. I tried convincing him, but couldn't. I trusted Simbu and then, I called up Adhik and asked the entire team to return to Chennai from Thailand.

I asked Adhik to work towards a June 23 release, and he also agreed to it. But, it is not possible to release the film with just one song. So, we decided to add one more song to the film, but the song wasn't ready. Five songs were decided to be recorded, as per the agreement, but in this course of one and half years, only one song was composed. Only Simbu and Yuvan know the reason behind this, and even the director Adhik was not informed about any progression in the music. Finally, Simbu didn't have the interest to act in the third character. Adhik went and cried to Simbu and asked him to give an hour of time so that he would film what he could (Thikku Shiva portion). Simbu agreed and asked to shoot in his own house. So, we shot according to that.

But even for shooting inside his house, Simbu turned up so late and came only at 3 AM for the shoot. Will this atrocity happen anywhere else?
We assumed that he would come for the dubbing at least. The release date was nearing, and we were out of options. Simbu then dubbed from his house bathroom. He recorded the dialogues and sent us. We took that audio file and went to Rajakrishnan of Four Frames, who said that the quality is very very bad, and he wouldn't be able to mix the sounds. With just five days left over for censor, we adjusted the sounds and enhanced the quality with, 'Voice Modulation Software.'

After all these hurdles and issues, we finally released AAA as a half-baked film. The film became a big loss, due to many factors, which everyone knows.

Tamannaah shot only for 13 days, out of her 30 days call sheet, while Shriya shot only for seven days out of her 15 days call sheet. Everything got wasted.

No. of days shooting was planned - 76
No. of days shooting happened - 47 + 1
No. of days Simbu came - 38 (13 days for song and fight, 25 days for talkie portions).

I pray that no other producer should face these issues with Simbu, that I faced. Please protect yourself."