Producer-distributors PT Selvakumar and Sritharan held an emergency press meet a short while ago, during which they made quite a few startling revelations about Vishal's upcoming film Irumbu Thirai. PT Selvakumar, notably, is distributing the film on behalf of Sritharan.

"We all know the current state of affairs in the industry. There are no buyers for films, and a lot of producers are suffering because of this. In this situation, Vishal is doing a lot of things for the welfare of the producers.

We are buying his upcoming Irumbu Thirai and distributing it all across Tamil Nadu. But there are lots of efforts being taken to stop this film from releasing. (Referring to the Film Federation Of India) Through this organization called the Federation, they are harming a lot of producers - and I am no exception.

But no one talks about this. They are like a mafia gang. You never know where they would hit and when. With less than three days for the film's release, they are not allowing a single theatre take the film.

They have a problem with Vishal, and it needs to be sorted out in whichever way applicable. What do we have to do in this? Why are we suffering?

We do not understand who started this organization and why they involve in such mafia-like activities. We have seen many heroes suffering because of them too. We saw Sivakarthikeyan shed tears! We saw Lawrence suffer humiliation and decide to produce his films by himself thereafter.

They are stopping every person coming forward to give theatres for the Irumbu Thirai. We are approaching the CM Cell, Office of the Commissioner of Police and even CB-CID tomorrow to take legal action against this. They have been doing this for 25 years now!

It is Arulpathy. We have proof. What they do is, they never make open calls. Arulpathy never comes on call. They have a lady who calls everyone and delivers their instructions.

I already suffered from Puli's loss because of them. Plenty of films and stars have suffered. They are is making not just me, but many producers run away from the industry.

I appeal to you media people to help us in this matter. They are not allowing the release throughout Tamil Nadu. They want to take revenge on Vishal and are harming us in the process.

If I don't get a solution for this, I will fast unto death."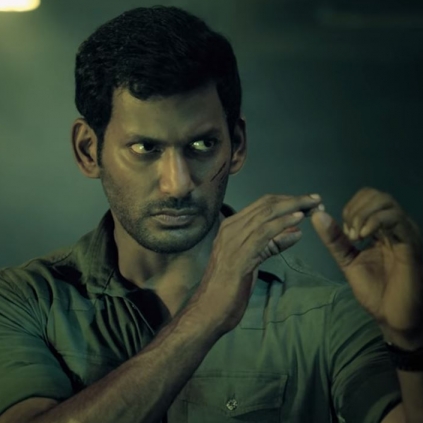 Vishal via Twitter shared a 10 seconds promo video from his upcoming action entertainer Irumbu Thirai. He also said Irumbu Thirai will be his most controversial film to date.

Promo video link below: