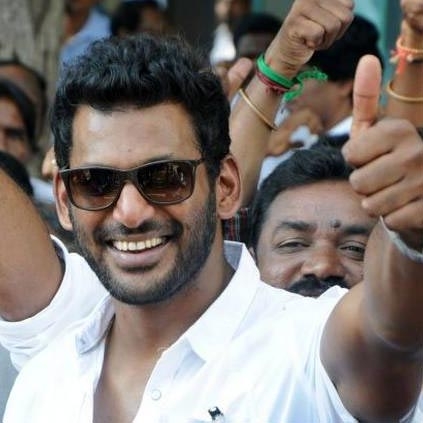 After the election commission rejected Vishal's nomination papers, the actor told the media that he has enough evidence to prove that his proposers were threatened to create confusion.

It looks like Vishal has submitted all his evidence to election committee who seems to have allegedly agreed to his plea. Following which EC has now reportedly accepted Vishal's nomination.

The actor took to his Twitter space to share this happy news, "After much struggle, my nomination for the RK Nagar election is finally accepted....Truth Always Triumphs !!." However, an official confirmation from the election commision is awaited.

*Tweet is not spell-checked
Amidst the flaring controversy surrounding Vishal's candidacy in the RK Nagar by-election, the Returning Officer of the Radhakrishnan Nagar Assembly Constituency has released an official statement clarifying the reasons as to why his nomination was rejected.

According to him, the turn of events was as follows:

1. Objections were raised by other candidates of the election that the 10 proposals in the name of Vishal's nomination were all not genuine.

2. The nomination of Vishal was taken up for scrutiny by the officials.

3. The hearing of the scrutiny was adjourned for a while to receive the nomination.

4. After it was filed, the hearing resumed. The claims/objections of Vishal and the other candidates were heard.

5. The candidates produced two of the proposers of Vishal who gave a written representation that they had not proposed nominating Vishal and that their signatures were forged. A video of these statements was taken, and the two were also personally questioned.

6. Later in the evening, Vishal and his representatives appeared before the RO and played a telephone audio clip, wherein a person claiming to be speaking on behalf of one of the proposers said that she was forced to appear before the RO - she did not do it voluntarily.

7. Representations from both sides were heard, and summary proceedings were conducted.

8. It was decided that since two of the 10 proposers have appeared in person and claimed that their signatures were forged, and the audio clip brought by Vishal, even though it had proof of the opposite, could not be verified in any way, the nomination cannot be accepted.

9. The nomination of Vishal was rejected due to only eight proposals and not 10.