We had reported earlier that Superstar Rajinikanth had Tweeted about the protest that took place near the Chepauk stadium yesterday and that he had shared a video that featured a person from Seeman's party attacking a policeman. Addressing the press today, Seeman and Bharathiraja asked the media a few questions and lashed out with their respective statements regarding the same. Bharathiraja said:

"They arrested me during the protest, did he Tweet about it? We all saw the video of a Karnataka person attack a Tamil Nadu lorry driver. Why did he not talk about that issue? Did he give a statement appreciating us for our protest ahead of the IPL match yesterday? Lip movement mattum dhan Undhu, dubbing vera yaaro!"

Seeman said, "Have you come out in the sun and protested. Did you sweat it out for Tamil Nadu? Have you spoken till you become so thirsty for water? Ask him to arrange a press conference and say what we did was wrong. He won't do that. Ulla ukkandhutu Tweet mattum podraru!"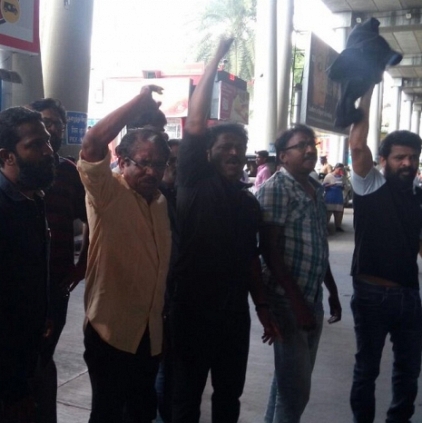 Members from Tamizhar Kalai Ilakkiya Panbaattu Peravai, directors Bharathiraja, Ameer, Ram, Vetrimaaran, Gowthaman, and politician Seeman, had earlier announced that they will display black flags, during Indian Prime Minister Narendra Modi's visit to Chennai.

Following that, the directors were seen protesting outside the Chennai airport this morning, showing black flags, expressing their anger over the delay in Cauvery Management Board formation. In the next few minutes, directors Bharathiraja, Ameer, Vetrimaaran, Seeman, and others were arrested by the TN Police officials.