The fifth edition of Behindwoods Gold Medals took place at Chennai Trade Centre, yesterday, June 17. It was a star-studded event filled with plenty of fun moments.

It was not just an event for film stars, 4 humanity-based awards for Eminence in Service to Mankind made the award show standout.

Behindwoods made donations of ₹ 17 lakhs for the welfare of Tamil film industry, ₹10 lakhs and ₹7 lakhs to the Producer Council and Nadigar Sangam respectively for the betterment of the Producer Council and also for the construction of Nadigar Sangam building.

Actor Karthi and Ayub Khan of Producer Council collected the cheques from the Managing Director & Chief Executive of Behindwoods NS Manoj.

Karthi - "There are many people who still dream to be a part of the industry. I am sure this money will help them. Even big names in the industry are now suffering so it's not a matter about being small or big. We will definitely support the needy."

Manoj - "I thank our world wide visitors who have inspired us for the last 15 years to cross any hardship. I would like to thank my team in BW who make everything possible. There are people who worked day and nights for this evening and we are happy about how it turned out. I thank the producers council, all the members of the film industry, all our partners and our sponsors."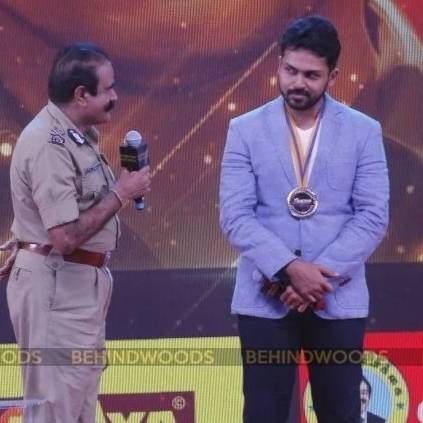 Karthi was awarded the Best Actor in the lead role award at Behindwoods Gold Medals 2018 for his excellent performances in Theeran Adhigaram Ondru and Kaatru Veliyidai.

Karthi's Speech: "This award is completely unexpected. All the appreciation goes to the people who did the research. I would like to thank the team for giving me the opportunity to play this role. I am glad that people have noticed the effort. I would like to talk about something here, from our childhood, everyone has taught us that we need to achieve big in life.

No one taught us how to balance life and work in general. Today, on the occasion of father's day I would like to request all fathers to spend some special time with their daughters and sons."