Arun Vijay went on for an interactive session with the audience on his twitter handle on June 19th. He initiated the session by asking his fans to use the hashtag #AV and send him any question they would like him to answer. Here are some of the interesting questions his fans asked him and following are his answers to the posts.

Q.1 What is your favorite film of your father's?
Answer: "Kaali... Kizhakku Cheemaiyiley"

Q.2 What do you feel about actor Suriya?
Answer: "Good performer ...Made his way through his hard work.."

Q.3 Share some words of your role in Saaho?
Answer: It's a very stylish and an important one. I am sure u guys will like it"

Q.4 Can you say something about what we can expect from CCV?
Answer: "A solid Maniratnam film which you'll would Luv.."

Q.5 Any idea when you'll become a director or a lyricist?
Answer: "As of now my full concentration is on my acting"

Q.6 What do you think about Sivakarthikeyan?
Answer: "Talented..Happy to his quick growth..."

Q.7 Can you describe Mahesh Babu in one word?
Answer: "Charming!! Super star .."

Q.8 What is your role in CVV and how was your experience working with STR, Vijay Sethupathi and the entire cast?
Answer: "u'll see it.. mind blowing experience.."

Q.9 Will you work with GVM again?
Answer: "Yup.. soon.."

Q.10 How was your experience working with STR?
Answer: "Sweetheart.."

Q.11 When will your film Vaa Deel release?
Answer: "Pretty soon"

Q.12 One word about Allu Arjun and Ram Charan?
Answer: "Allu Arjun & Ram Charan r amazing dancers"

Q.13 Can you share a few words about actor Young Rebel star Prabas?
Answer: "Humble rock star!!"

Q.14 Can you share a few words about GVM?
Answer: "Thanks bro.. genius.."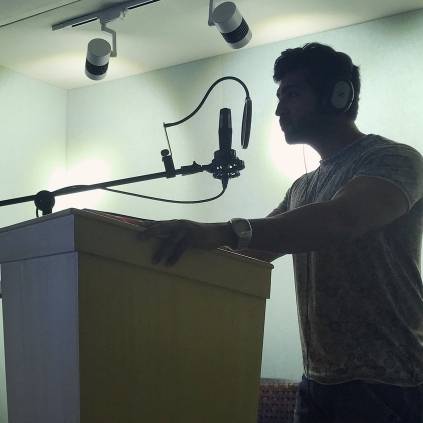 Here is a quick glance at a few BW Quickies:
> Actor Arun Vijay, who is a part of Mani Ratnam's Chekka Chivantha Vaanam, has started dubbing for the big multi-starrer film. He has posted a picture from the dub studio.

> Mankatha and Jilla fame actor Mahat Raghavendra, has begun his next Tamil film as the lead actor. It has been titled Yakan and is to be directed by Dinesh Parthsarathy. Yakan is touted to be a wolf based thriller film.

> Director Venkat Prabhu is all set to release the second trailer of the Tamil flick Andhra Mess directed by Jai. The trailer will be launched tomorrow (June 14) at 7pm.