Behindwoods Gold Medal Awards held on June 17th, in Chennai Trade Centre was a massive success. We were blessed to have the presence of prominent stars from the industry and four significant individuals were honored for their contributions to the welfare of our society with the 'Behindwoods Gold Medal for Eminence in Service to Mankind'

Our Gold Redcarpet had 2 important activities, One was the guests posing at our Official Social Media Partner: Facebook India's stage and the next was the guests actively signed at the Nippon Paints - 'I want my city clean and colorful' campaign. The stars signed pledging to ensure a clean and a colorful city.

Stars including Rajamouli, Simbu, Karthi, Nayanthara, Anushka Shetty, Andrea, Hip Hop Adhi, Vijay Devarkonda, Tovino Thomas, Ramya Krishnan, Aditi Balan, MS Bhaskar, Yogi Babu were seen actively registering their signature for a good cause.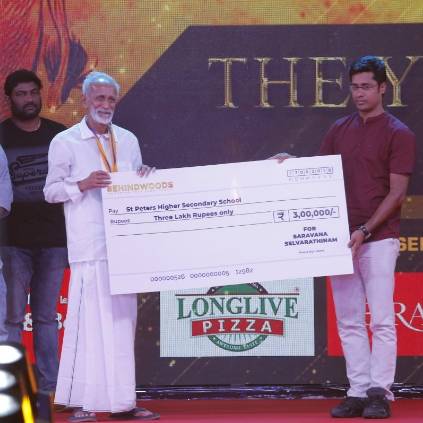 Behindwoods hit a massive fifth year with our in-house Behindwoods Gold Medal Awards 2018. The event was conducted on June 17th in Chennai Trade Centre. The event was a joyous moment for all and a definite proud evening.

It was not just an evening emphasizing the work of film stars, we went beyond to honor people who have made significant contributions to the welfare of the society and our state. We were proud to present 4 humanity-based awards for Eminence in Service to Mankind. The proud winners were S.R Jangid, Palam Kalyanasundaram, Shanmugam, and Malarkodi.

One of the most iconic categories we presented this year was 'The person of the year' award underlying the Youth of Tamil Nadu, appreciating their momentous contributions towards the Jallikattu protest in 2017. The award was presented by Palam Kalyanasundaram to a collective number of 10 individuals who confidently initiated and lead the protest from Chennai and Madurai.

In line with honoring the Tamil Nadu youth award, Mr. Saravana Arul, Managing Director of Saravana Selvarathinam had donated an amount of 3 lakhs to St. Peter's Higher Secondary School to improvise the education among the underprivileged children.

Unfortunately, Mr. Saravana Arul could not join us due to health issues, but the cheque was presented by our Eminence award winner Palam Kalyanasundaram and received by Brother George, Vice Principal of St. Peters Higher Secondary School.
Behindwoods Nippon Paints lets keep the city clean and colourful campaign
People looking for online information on Behindwoods Gold Medal awards 2018, BGM 2018 will find this news story useful.