INDIAN RAILWAYS INTRODUCES FIRST EVER E-TOILETS ON TRAINS; HERE ARE ITS FEATURES
Home >
News Shots >
India
By

Behindwoods News Bureau

|

Nov 21, 2018 03:07 PM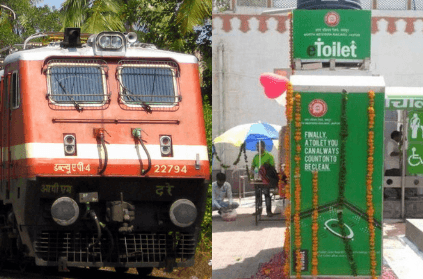 Going to the washroom on trains is not the best of experiences. Most of the times, the washrooms are not in the best of conditions as they lack hygiene. But that is all set to change now.

Indian Railways has announced that it will set up e-toilets in the railway coaches for the first time. They will be environment-friendly and function electronically. The e-toilets will be part of the Lokmanya Tilak Terminus- Coimbatore Express, which will be monitored for customer feedback, the railways said.

"Though e-toilets have been common in use in static locations, the concept will be tried for the first time in a mobile environment of a railway coach," said Central Railway in a press note released.

The e-toilets will have several additional functions and sensors to ensure that the toilet operates in a hygienic manner. The toilets are fully automated, have pressurised flushing to solve the problem of unclean toilets, have sensors that ensure the toilet is cleaned after every five usages.

In addition, they are completely environment-friendly, and have improvised ventilations systems and compatibility with existing bio-toilets. The idea of launching e-toilet came in the wake of World Toilet Day which is celebrated every year on November 19.

*Originally published in Business Today*
next