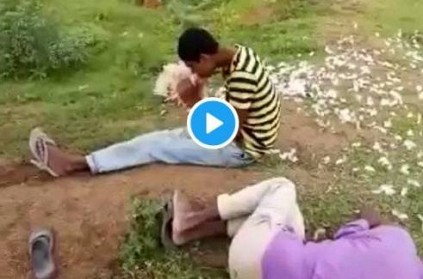 A teenager from Telangana was seen eating a live chicken, possibly due to the effect of alcohol intoxication. The incident that took place on July 31, was caught on camera and the video has gone viral on social media.
Two men can be seen in the video in an inebriated state. While one is completely passed out, the other is seen holding a live chicken, plucking its feathers and taking a bite at it. The chicken was bought to make curry at home, but both passed out due to intoxication.
After waking up, one of the men plucked out the feathers from the live chicken and started eating it out of hunger. The incident has caused shock among people for its outrageous nature.
The police are yet to identify the youth and will have them booked under charges of 'animal cruelty and indecent behaviour in public'.
Outrageous- after the report of drunk youths raping a pregnant goat in #Haryana, sloshed youth eat live chicken in #Telangana. Video goes viral. pic.twitter.com/GrWUR6WRXJ

— Aashish (@Ashi_IndiaToday) August 2, 2018
next