FROM ABUSED TO ALIVE: MEET THE CUTEST INDIAN DOG ALIVE
Home >
News Shots >
India
By

Behindwoods News Bureau

|

Aug 30, 2018 02:29 PM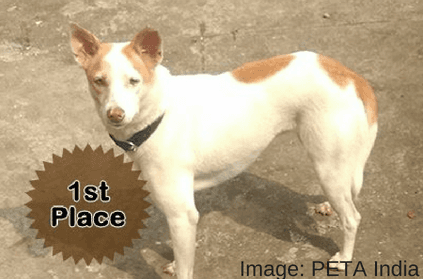 Dogs are adorable. There is a sense of comfort when you play with them and watch their cute little antics. One such dog seems to have made headlines.

Meet 'Pinky', an 18-month old dog from Mangaluru, who has been crowned the 'cutest Indian dog alive'. People for Ethical Treatment of Animals (PETA) has crowned this desi dog with the coveted title. 'Pinky', who was once stuck at a construction site and was battling for life, has now shot to fame.
The four-legged pooch had edged out hundreds of other competitors to become one of the 10 finalists in the annual contest conducted by PETA. After much consideration Pinky was crowned the winner of the 2018 contest.

Pinky was rescued from a construction site, almost a year back, by a woman named Jean Crasta. The women took the pup home and took her in as family. "I happened to see her when I was feeding other stray dogs. With the help of a corn seller, I rescued and took her home. Her toes and nose were so pink that I named her Pinky," said Crasta

PETA India has reiterated that the contest is a means to show how people can make a difference by adopting a dog from the street or animal shelter. "Pinky proves that adopting a dog can fill your life with joy and love that words can't express," Erika Goyal, Associate Manager of Online Marketing at PETA India told Times Of India

Pinky will now receive a first-position certificate, and a "100% Desi Dog" t-shirt. Her guardian will receive a "My dog is a rescue" t-shirt as well.
Tags :
#PETA #MANGALURU #CUTE #DOG
next