As we are aware, Gautham Vasudev Menon will be playing an important role in Vijay Milton's Goli Soda 2. In an exclusive interview with Behindwoods, the Kadugu director talks about how he roped in Gautham Menon to play a role in his film. Here's what he had to say:

"I wrote the character to be a person who is neatly dressed but is very local. When I narrated the script to Lingusamy, I told him that the character will be someone like a Gautham Menon. But we knew Gautham Menon wouldn't act and that is not his job, so we didn't discuss further.

Then I finished the casting, but we never decided on who will play that character. But that was the time we came up with the idea to create a voice based teaser. That was when we thought Gautham Menon's voice will suit the concept. We approached him, and sent him a voice note and he came and spoke. But then he himself felt that there was something missing, and then he added the bad words and did the voice over in his style, and it worked out very well.

After this work was done, we were all very satisfied and that was when I told him that I wanted him to play the role as well. He initially said that he cannot act and he was not very confident, but right after the first shot, he gained confidence and did the character for us"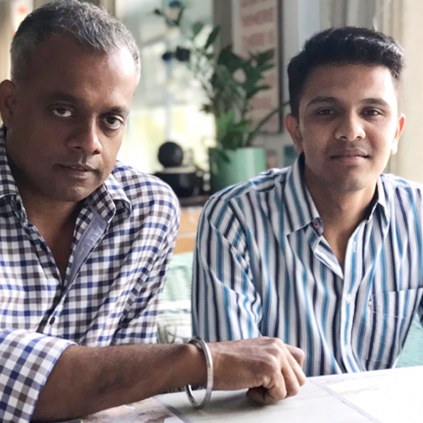 One of the most trending controversies in recent times has been the one that involved directors Gautham Menon and Karthick Naren. The issue was lit up on Twitter, and Gautham Menon also released a statement to put an end to the speculations.

Gautham Menon is producing Karthick Naren's second venture, Naragasooran. The film stars Arvind Swami, Indrajith, Sundeep Kishan, Shriya Saran and Aathmika. Sundeep Kishan has taken to Twitter to share his feelings about the on-going controversy.

He said, "Naragasooran is a collaboration of 2 of the most brilliant minds I know..1 who I got to learn under & 1 who inspired me on set everyday..1 who has always battled to back the films he believed in & the other who gives cinema his all, actually 2 similar minds with a diff approach. I have always believed that a film is beyond everything else.. #Naragasooran - a @karthicknaren_M directorial & a @menongautham Production.."

**The tweet is not spell-checked