The trailer launch event of Suseenthiran's next directorial Nenjil Thunivirundhaal happened yesterday evening, in the presence of the film's cast and crew.

Director Suseenthiran in his speech was all praise for his actor Sundeep Kishan. He said, "Nenjil Thunivirundhaal will become a big success like Naan Mahaan Alla. It is good to be continuously working with Imman, who has given a superb set of songs for this film. Sundeep and I should've actually collaborated together for Jeeva movie itself, but it couldn't happen at that time. Initially, I planned to make Jeeva as a bilingual, with Vishnu Vishal as the lead in Tamil, and Sundeep in Telugu. But after two days of the shoot, we felt it wasn't possible to complete the film as a bilingual. Now, we have collaborated in this film, and it feels great.

Mark my words, Sundeep will be the next big thing after Dhanush and Vijay Sethupathi in B and C centres. An actor can easily speak the dialogues, but the challenge is to engage and impress the audience, with his body language and performance. Sundeep is one such performer, who can make people sit through with his performance."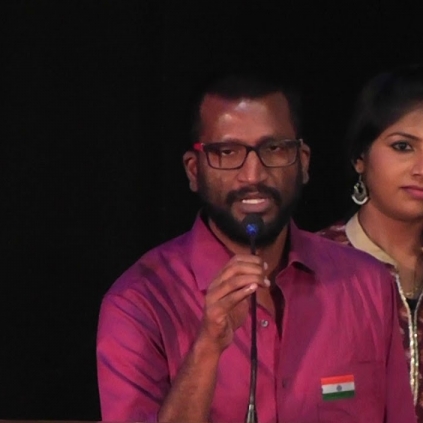 Actor Sundeep Kishan, whose next Tamil film after Maanagaram is Nenjil Thunivirunthal directed by Suseenthiran. The audio launch of the film took place on October 5, 2017 and had all the stars take to stage and talk about the film. Sundeep Kishan, while on stage said:

"I am so happy that I got to work with Suseenthiran sir. All his films are good films. Sometimes, as an actor we can plan a hit, but we cannot plan to act in a good film. In that way, Suseenthiran sir has always ensured to make good movies with a strong content. If he wins, he will make a 100 others win along with him."

Another surprise at the audio launch was that, Suseenthiran introduced the team of his next film 'Angelina'. He is known for making small budget and feasible films that carry forward interesting content.