Actress Richa Gangopadhyay has been on a break from films since her last film almost five years ago. She reportedly had decided to pursue further education abroad and this was the cause of the break.

However, the tweeple following her have been relentless, linking her break to a possible marriage. They have also been endlessly questioning her based on this assumed link. And Richa is not pleased, evident from her recent tweet: "Pretty disgusted to be getting so many Qs asking if I quit acting "to get married". Can ppl not have other career ambitions in life?? 🙄"

*Tweet is not spell checked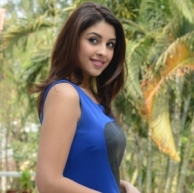 Devotees who visited the holy shrine at Tirupathi recently were in for some special star gazing as actresses Shriya and Richa Gangopadhyay also visited the temple on the same day but at different time slots.
Shriya was among the early birds at the temple as she had come to pray ahead of the release of her Kannada Tamil bilingual Chandra. She was crowded by fans that were eager for a glimpse of the star and for her autograph. She informed the media gathered that she generally visits Tirupathi four times a year and was here for some peace of mind.

Richa was also given a similar rousing reception by the crowd at the temple but she managed to evade the crowd thanks to the timely intervention of her security personnel.