Mollywood industry's Association of Malayalam Movie Artists (AMMA) celebrated its 25th anniversary in a grand manner at Trivandrum, and as the guest of honour, Suriya graced the event. Suriya also donated an amount of Rs 10 lakhs to AMMA for their Guru Dakshana Scheme, a pension plan for the senior artists of the industry.

Suriya shared his experience about the event, through his latest statement on Twitter. The NGK hero stated, "AMMA - Amazing Moments & Memories of an Actor. My heart brims with pride and happiness to be present at AMMA25 event held at Trivandrum. To see 400 actors sing, dance, perform, play music, do magic.. I felt like a speck amidst the ocean of talents..

Life time memory to share the stage with Mammuka & Lalettan!! Malayalam industry is like diamonds in the Tiara. Exceptional, rare and hard to find gems.

Dear Sir Mohanlal, you are not just an inspiration to me, I would like to emulate you in life; Be great yet be simple, humble, kind, generous, down-to-earth, there aren't enough words in any language to describe you sir. Thanks for making me part of #AMMA25."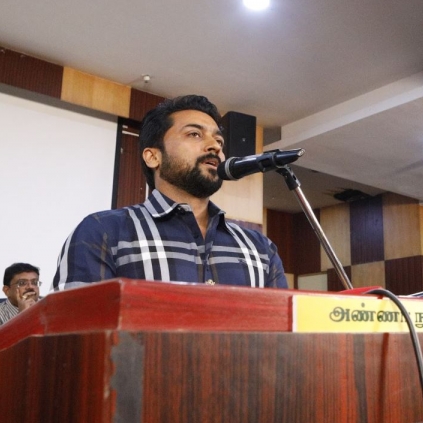 The book launch of Aram Seiyya Virumbu by Agaram Foundation happened last evening in Chennai at Anna Library. Actor Suriya, Founder of Agaram Foundation, Udhayachandran IAS, Raja Gopalan, S Maadasamy, Journalist Samas, Shri Kalvi Mani and many others took part in the occasion.

School Education Secretary Udhaya Chandran IAS delivered the special speech during the book launch.

Speaking at the function actor Suriya said, "Agaram Foundation has been quenching the thirst of ones who highly desire for education. I am happy that 2006-Batch of Agaram Foundation has taken special initiatives of being good volunteers. They have been following this as a duty rather than claiming it to be a service. The main mission of Agaram Foundation is to fulfil the needs of the first generation in a family that wants to pursue education whose parents are illiterate go through the issues of not able to buy study materials. Our society is based on ups and downs.

There are students, who are very proficient in their studies but are unable to pursue them due to financial inadequacy. The biggest questions struck our minds – Should these genius students pursue 12 years of education must go back to the 'Labourer' zone again? This paved way to the origin of Agaram Foundation that was started with 160 students in 2010. MONEY isn't necessary to make a change, but love and affection are enough to make things happen.

This has been the substantial strength of Agaram Foundation. The volunteers have extended their unconditional support over the years, where they dedicate their weekends irrespective of their personal and professional commitments. They have travelled towards 200Kms over these years for bringing the best and eligible students. The first generation of students from their families comprises of 60% girls and 40% boys. The greatest share of joy is to make some educated and see them glow. Every year, Agaram Foundation gets around 8000 applications and 500 students are chosen.

Yet another fact is that when compared to other states, we see that Tamil Nadu stands out with additional 45% of students pursuing graduation after their 12th grade. Our country should give more importance to education. It is quite disappointing to see that there are villages, where there isn't a single school or library, but at least two TASMAC shops.

The earnest reason behind starting Agaram Foundation was when my close friend Gnanavel asked me a strong question. The top scorers in the 12th exam are being felicitated with prize money and accolades, which is done by Government itself. But what about the students who have scored an average 750 because of their family situations aren't able to proceed further. So we decided to cover up this imbalance and that's where the birth of Agaram took place."

This book would definitely moisten your eyes with the certain lives recorded here. Whoever it might be, if they are able to provide education to at least a child from their end, then the mission of Agaram is accomplished. The situation to take education to the next level has occurred. The scenario is so bleak that many Government schools don't have teachers for many subjects. Such topics have to be openly discussed in the schools. The need of the hour is to bring a change only then India can witness its growth. In 1965, the concepts like free education and free mid-day meals made children come to school that instigated them on education.

The contemporary standard of education is completely different from what it was before. Today apart from the marks scored through academics isn't going to help anyone at their workplace. The teamwork and group discussions in many places, the need to socialize in communication has become the mandatory element. So such criteria have to be focalized upon.

Teachers have to be supporting pillars to the students and should help to bring in a change. The book isn't just a record of fiction, but the testimony of real-life instances that is witnessed through the eyes of Agaram Foundation."

Getting to speak on his part, Shri Udhayachandran IAS said, "It's an appreciable thing on how the student is being chosen by Agaram Foundation. It works not just on academic values but gives more importance to 'Human Emotions' too. I would say that even Government should follow the same pattern as Agaram that will definitely result in good progress. I am so happy that everyone in Agaram Foundation has been working with unity."