Producer Satish Kumar announced his new film Andava Kanom, releasing on June 29, in a unique way on Twitter, with a post that read:

"#Andavakaanom from June 29th a complete family fun entertainment censored genuinely "U" so even "A" audience also can watch No vulgar dialogues No bitu scene No need tissue papers No need to hide and watch in theatres.support good films also @sriyareddy @LeoVisions @Divo"

Replying to what looked like a dig at adult entertainers, producer Dhananjayan Govind posted a tweet:

"Surely @JSKfilmcorp sir. Audience will certainly patronize good films also not just films requiring 'tisse papers' to watch it. Be confident...ha ha👍👍✍️"

So there's that - a film to watch out on June 29 - Andaava Kanom!

*Social media post not spell-checked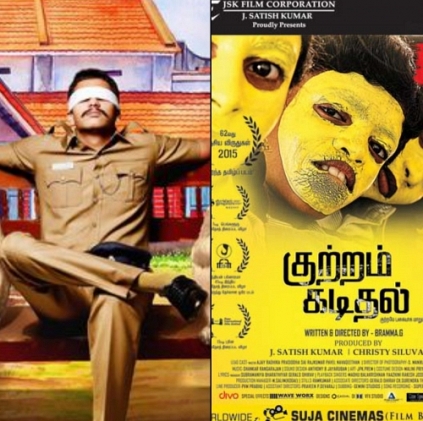 JSK film Corporation, known for their keenness in bringing out movies of versatility to the audience, has planned to release their fun-filled entertainer Naalu Policeum Nalla Irundha Oorum and the National award winning socio-thriller Kuttram Kadithal on June 19th.
Naalu Policeum Nalla Irundha Oorum, a comedy, features Arulnithi and Remya Nambeesan and is directed by Sri Krishna. On the other hand, Kuttram Kadithal directed by Bramma.G, has been packaged as an edge of the seat thriller with an important message to carry home.
This decision of J. Satish Kumar, releasing two of his movies on the same date has proved his inclination towards novel ideas in the film industry. He adds, "I have confidence on the Tamil audience, who would support and enjoy good cinema. That's the reason I am releasing both the films on the same date".