Enthiran had a couple of unique song sequences where a robot romances a pretty human girl. Shankar at 2.0 audio launch said that was one of the toughest song situation he has ever scripted.

Shankar revealed that in 2.0, there is a sequence where two machines romance. By machine does he mean robots? Wow, another striking new concept. Will it be between Chitti (Rajini) and Amy Jackon is something that we need to wait and see. So there is a high possibility that Amy Jackson plays a robot in the film.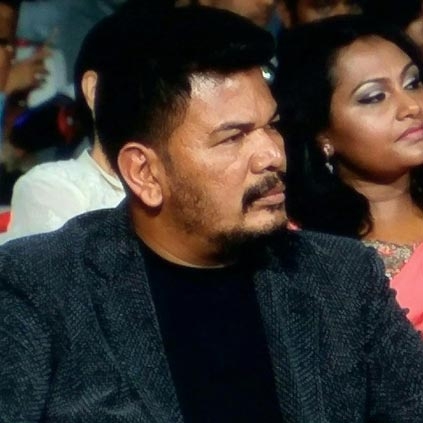 Shankar's complete speech from 2.0 audio launch event:
"As I said during the 2.0 press meet, this film is not an extension of Enthiran. It has an entirely different storyline with a global message. Familiar characters like Dr Vaseegaran, Chitti and 2.0 will come in this story.

Rajini sir even while he was taking a medical treatment, we made him act in 47-degree heat in Delhi wearing a 12-kilo heavy suit. He never made a fuzz, cooperated so well and performed so well; I should thank him for that. After acting for 40 years, even today, when we take a shot, he still wants every shot to be very different and fresh. 'What can we do new this time?'. It is great to see him be so involved and energetic in whatever he does.

Akshay Kumar would have to sit for 3 to 4 hours for make up every day and then wear a bulky suit. I think, he has worked extremely hard for 2.0 more than any film he has done till date.

There are only three songs in 2.0 but AR Rahman has worked hard nearly for 1.5 years to get these songs perfect. More than the songs, he has a vast scope for background score in this film. Not just for Rahman, every technician in 2.0 still have so much of work left to do.

Coming to visual effects part, the team is relentlessly working hard to satisfy me. They are working for 2 years now even before the film's start. They say it is a grey area to me, I ask them why the output doesn't please me, and they say it's a grey area. They are fighting very hard to get what I want.

When it comes to live performances, people generally prefer to use songs to make a medley. Since that has become a usual practice, we decided to go with background scores of films that Rahman and I have worked. AR Rahman and his team did an excellent show today. It was like watching Hans Zimmer's show. Thank you, AR Rahman, for that.

Is it easy to work with the Superstar? It took eleven years for me to work with Rajinikanth from the time I approached him with a script. Now we have worked in 3 films."