Rajinikanth's full speech from 2 Point 0 audio launch

How has your 40-year cinema journey been?

"It did not seem like 40 years to me, it looks like 4 to 5 years. My success is all because of God's grace and people's love."

Your biggest learning?

"Money, name and fame give you only momentary satisfaction. In the beginning, it gives you a level of satisfaction but beyond a point, it would not help you find peace."

How is to be Rajinikanth?

"It would have been tough if I did not have trust in God. Since I believe in God, the process has been simple."

Few words for your fans?

"Always encourage good films. Make artists who make good cinema proud. Even if the film is not so good, go easy on filmmakers. Don't bash them and hurt them using vulgar terms in social media. It is my humble request''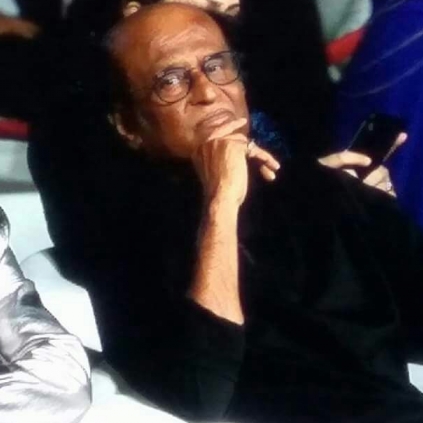 The most significant audio launch event of all time is currently taking place in Dubai. And we bring to you all the happenings from the event live for you:

2.0 audio launch event started at 9 PM in Dubai (10.30 Indian time). This grand event is hosted by RJ Balaji, Karan Johar and Rana Daggubati.

After the hosts made a proper introduction about the event, audio/visuals of all the prominent stars from 2.0 team were played one after another. Rajinikanth made his entry on to the stage with famous 'Oruvan Oruvan' BGM from Muthu.

Rana and RJ Balaji engaging the crowd in conversation with the VIP attendees. Now with director P.Vasu on the mic, reminiscing his days of working with the Super Star. There's no competition for Shankar other than his own films, says director P. Vasu. #2Point0AudioLaunch

Director Vijay sharing his wishes to the cast and crew of 2.0... with pride gleaming all over his face to see his find Amy Jackson scaling such heights...

After an enthralling dance to the remixed tunes of the Shankar-Rahman combo... the duo makes their way onto the stage, tearing through the backdrop.... wait... they're both hanging on either side of a locomotive engine that's got in and parked right in the middle of the stage..wow!
It's symbolic....Chikku bukku railey was the first song they worked together...

Stunt Silva calls Shankar as the best action director, above all bigwigs who've worked for the stunts in the film.