S.A.Chandrasekhar, in his recent interview with Behindwoods, disclosed some unknown details about his foundation works to make Vijay enter politics. However, the ace director turned actor also revealed, that he currently feels that Vijay's political entry might not be convincing and right, as already two biggest stars of Tamil cinema, Rajinikanth, and Kamal Haasan have ventured into the same.

SAC said, "I initially had plans for that. We formed the fan groups, and asked every fan to do good things to people, and be socially responsible. We trained them, and all that is true. All these are my personal opinions and doesn't reflect Vijay's ideologies.

If you ask me, now, given the current situation, two of Vijay's seniors, Rajinikanth and Kamal Haasan have entered politics. So, if Vijay also jumps into this, people will not be satisfied. They will be pissed off and will ask why are stars venturing into politics. I feel that the Tamil people might get angry because of this.

I would like to recall an interesting incident now. While I was shooting for a film in the outdoors, a lady, from the common public, came up to me and appreciated about Vijay's growth. She was very happy for him, and she wholeheartedly appreciated his performances in films. She told that Vijay was getting younger and younger in looks, with every film. After telling all these she said, 'Dhayavu senju avara arasiyal ku varama paathukonga sir (please do not make him enter politics)'. So, at present, I feel, the audience love him as an actor, and as a star. They don't want him into politics.

As a father, I wanted him to come into politics, a few years back, and we worked towards that. I again repeat, these intentions were there, before Rajini and Kamal announced their entries, but not now."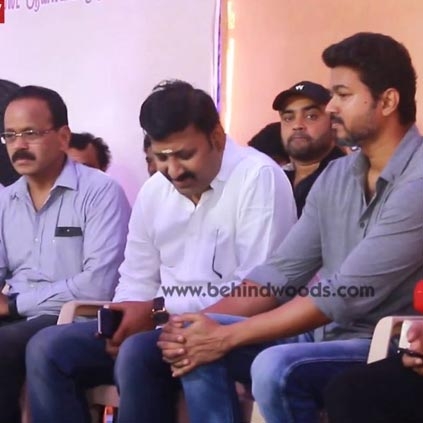 As we all know actor Vijay took part in yesterday's Nadigar Sangam strike against Cauvery and Sterlite issues. Apparently, a fake video is circulating online of Vijay sitting while Nassar was singing Tamizh Thaai Vaazhthu during the protest.

Producer Dhananjayan Govind who also attended the protest has now clarified that Vijay was indeed respecting the state song of Tamil Nadu and video circulated online is a fake. His tweet reads as follows, "Seen a cooked up video posted in various groups showing @actorvijay sir sitting while the #TamizhThaaiVaazhthu was sung by #Nasser sir & others yesterday. Totally fabricated video as he stood along with us & sang to inaugurate the silent protest was the fact/truth🙏🙏🙏"

*Tweet is not spell-checked