Today, January 17, marks the 101st birthday of Puratchi Thalaivar MGR. The late ex Chief Minister of Tamil Nadu, who was also the most prolific and successful actor of his time, has been celebrated in various ways today, but an event at Sathya Studios, Adyar, took the cake.

The launch of Kizhakku Appricavil Raju, starring MGR through motion capture technology, is an animated film directed by Arul Moorthy. Superstar Rajinikanth and Ulaga Nayagan Kamal Haasan attended the launch and inaugurated the event.

Rajini also clapped the first shot of the movie, and both the stars wished the best of luck for the film - and so do we!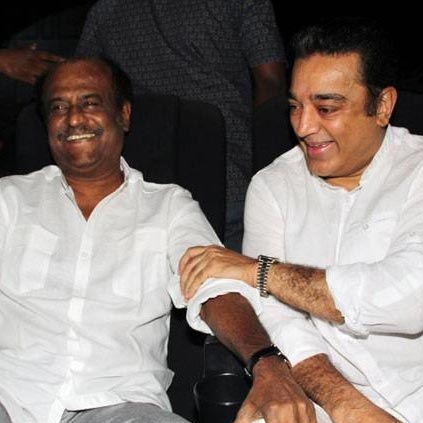 Superstar Rajinikanth, while addressing the media today, January 17, answered a few questions thrown at him.

Q. What do you have to say about Kamal Haasan joining politics?
A. "I express my wishes to Kamal Haasan"

Q. Did you expect Kamal to enter politics?
A. "No, I did not see that coming, but I wish him all the best"

Q. Will you team up with Kamal Haasan in politics?
A. "Only time will tell, we will have to wait and see"

Q. Do you think the current political parties are following MGR's ideologies?
A. "Indeed, they are following to an extent"

Q. What will be your stand if the state elections are called within the next 6 months?
A. "I will definitely face it"