Ulaga Nayagan Kamal Haasan's 63rd birthday falls tomorrow, November 7. In line with his socially responsible principles, the ace actor will not celebrate his birthday, but instead, focus on the currently pressing issues in society.

He will be visiting a medical camp set up by the Narpani Iyakkam (Welfare Movement) at Annapoorna Marrige Hall, CTH Road, Avadi, at 7 in the morning. Following this will be a visit to the rain-affected area at Naryanapuram, S Kolathur Road, Pallikaranai by 9 AM.

Kamal will also be meeting the media fraternity at 12 Noon at the GRT Grand, T.Nagar for a special message.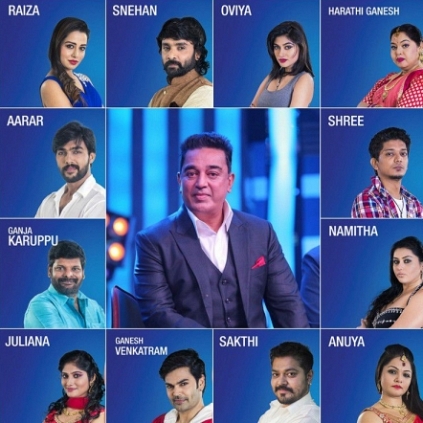 Kamal Haasan, has a more special connect with the Bigg Boss contestants, as he has interacted more with them in the recent days. Ulaganayagan celebrates his birthday today (November 7), and look at these Bigg Boss contestants who have wished their host.

Gayathri Raghuram - @ikamalhaasan happy birthday sir. Hope to see u soon as great politician and do good for people. Lots of love from my mom me sister /family

Ganesh Venkatraman - A vry happy bday 2 my Guru dearest @ikamalhaasan Sir..A leader, a Visionary, Our BigBoss. Keep inspiring us
#HappyBirthdayKamalHaasan

Harathi - Long live beloved most respectful... Pride of indian cinema, power house of Tamil cinema - our own... @ikamalhaasan sir. #HBDKamalHaasan

Aarav - Wishing Ulaganayagan Padmashree @ikamalhaasan Sir a Happy Bday..Thanks for shaping me..#HBDKamalHaasan

Harish Kalyan - எங்கள் இதய நாயகனுக்கு பிறந்தநாள் வாழ்த்துக்கள் .. அருமையான இந்த நினைவுகள் என்றும் என் நெஞ்சத்தில் குடியிருக்கும் ❤️ u @ikamalhaasan sir

Suja Varunee - As an Actor&A person u ve been agreat inspiration for me.U'll always be mymaster & I m honoured to be ur apprentice! HBD @ikamalhaasan Appa

Kaajal Pasupathi - My Dear Kamal Sir, You are classy, Sassy and a bit of Naughty Smarty & wat not. you are truly a complete versatile TALENT Package Sir. Wat! Noooo! Wait watttt!!! 60+, Pls, Yo must be kidding. Yo look like wat max 30+ Yo Grow YOUNGER unlike others. Pls keep doing Movies as well, Whenever possible. Watchin your movies is Truly a Feast for the Eyes. Here's to you on your special day Your a living legend we have to say. Loads of love from one of your Produ&Diehard fan of yours

*tweets are not spell-checked