Earlier this morning Kayal Chandran got irked by the sarcasm hidden behind R.K.Nagar's teaser, who thought that the dialogue might be targetting Ulaganayagan Kamal Haasan.

Now, the latest to have joined this list is singer Krish, who has also asked Venkat Prabhu about that dialogue. Krish tweeted, "Wait........ I'm not up for the Last Dialogue....?? who u trying to mention @vp_offl ? En thalaivara patthi irundha!!!! Nee biriyani de.."

Venkat Prabhu replied saying, "Dai nallavaney!!! Edha irrundhaalum nerla pesuvom!! Padatha padam ah paaru", for which Krish said, "Mudiyaadhu.... Nee Padamaa yedu... situation en man dialogue vekkara?😡 we will speak in person vp...."

Like we said earlier, is this a publicity stunt put up by the RK Nagar team or a serious discussion? Well, it is open-ended!

*tweets are not spell-checked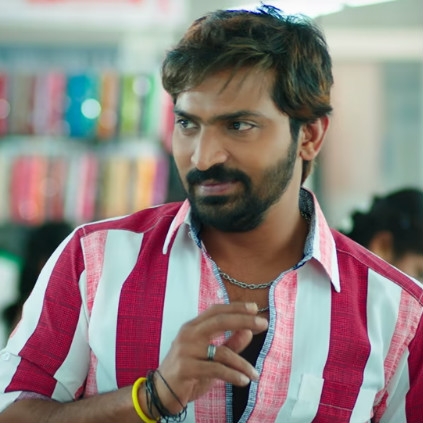 Director Venkat Prabhu's next production under his banner Black Ticket Company, is Vaibhav and Sampath starrer RK Nagar. The teaser of the film directed by Saravana Rajan has just released and here is the review of this 1 minute and 30 second teaser.

The teaser starts off with Sampath's voice over and seems to have a lot of witty dialogues in a satirical format. The movie seems to have a political connect and is touted to be an action thriller with a dosage of comedy as well. This marks the comeback of Vadacurry director Saravana Rajan and it seems to be packed with moments that would connect with the audience.

Cinematography is by Venkatesh S and editing by Praveen KL are apt for the teaser and it is going to be interesting to see how Premgi Amaren has scored music for RK Nagar. Vaibhav is fresh from the positive reviews he won for Meyaadha Maan and seems to play a North Chennai guy whereas the female lead Sana Althaf is back with the same team after Chennai 28-2.

However, the biggest surprise in the teaser is the last dialogue, which seems to be a dig at actors who wish to enter politics. Or it could just be a dialogue in the film that has aptly suited the current situation in the state, that the makers have chosen to use as a finishing touch to the RK Nagar teaser. As of now, it is said that RK Nagar's team is looking for a December 22 release.