Something rare happened today for the media groups - an 80-minute screening of Irumbu Thirai took place at Sathyam Cinemas, Chennai. We have had 10-20 minutes footage screenings in the past but today's screening of the entire first half is the first of its kind, and is a little odd, to say the least.

If the idea was to give a taste of the movie and enthuse all to see the rest of it, then the reactions from the screening seemed to vindicate the team's plan. But the fact remains that everyone who watched the movie today will have to watch the first half once again, and whether that would affect their mindset while rating the film is something we will have to wait and see.

The general reaction from those who watched today's screening was, 'I wished, they had shown the second half also'. Most of them were baffled by this peculiar idea of screening, particularly when the film's release is just 2 days away. Of course, they have created the much-needed curiosity but the same could have been achieved by screening the entire film. From what it looks like at the moment, this could be a make or break move.

Coming to the content: the first half was pretty engaging, even though it had no fight sequences. The trailer promised a full-on action-crime film, but the initial phase is largely family driven with some comedies that work, while the core plot is cleverly built side by side and had a very good setup for a sleek and engrossing second half. It looks like a confidently made film by debutant Mithran PS.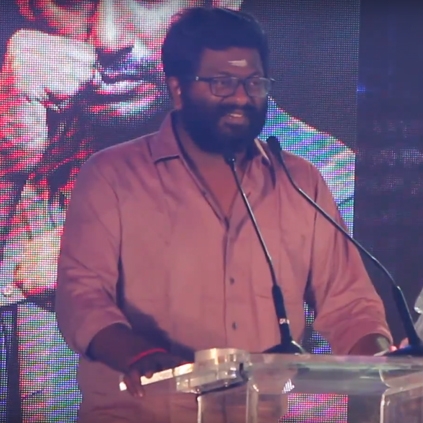 Vishal's Irumbu Thirai is gearing up for release in Jan 26, 2018. The teaser launch of the film happened yesterday, Deceber 27, in Chennai. The director of the film P. S. Mithran shared his experience working in the film.

"People say that the journey is more important than the destination. Irumbu Thirai has been such an important and an unforgettable journey for me. It's been almost four years since I conceived this script. We've seen almost three elections meanwhile. I have pitched this script to almost every producer in the industry. But when Vishal heard the script, he readily accepted to produce the film the next moment. I am very thankful to my cast and crew for being so supportive." said the director.

The film is a cyber thriller with technology having a very strong role to play. In a novel move that took everyone by surprise, the people who attended the event suddenly started receiving phone calls all at once with the recorded voice of Vishal. This was one of the main highlights of the event.