Sheriff Moideen, popularly known as choreographer Sheriff excelled with his work in Tamil, Telugu and Malayalam industry. In a recent interview with Behindwoods, dancer Sheriff spoke about his experience working with actor Vijay.

"Vijay sir is an effortless dancer. He has very good observational skills. I have never seen him practice on sets or stress out about anything. He learns by just watching all of us dance. One thing I really appreciate is he doesn't interfere with anyone's creativity.

He gives everyone a chance to learn and express their creativity. He's aware that young dancers come here with a lot of hopes and dreams, lets us have the limelight. He's never demanded anything and that's why everyone loves working with him.

There was a special incident that happened in Theri. Sir had a sprain in his leg but never told us about it. I realized he had a strain watching him dance. He is one of the calmest and tolerant people I have ever worked with. Sir always finishes off with style and so much energy.

It motivates me to give him better steps and see is an extraordinary performance on screen. Vijay sir doesn't have a dance background but, he has the potential to choreograph films on his own. I'm sure the output will be excellent"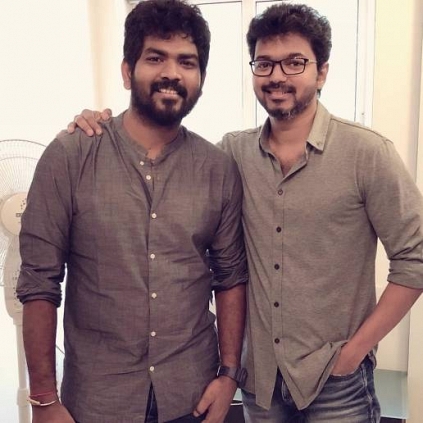 The uber cool and trending director Vignesh Shivn has met Thalapathy Vijay today, June 11, and the TSK director has posted a picture of both of them together.

Vignesh Shivn posted the picture with the caption, "With the one & only #thalapathy 😍🤩humility personified #Vijay sir 😇 #mondaymotivation #positivevibes #fanboy #fanmoment #special #moment #cherished #star #thalapathyfans"

The picture has set the social media on fire, and has also raised new questions among the fans. A new film on cards? Or was it a casual meet? Well, the time has to answer.