Today (April 5), most part of Tamil Nadu is on a Bandh in support of most of the parties to pressurize the central government to take necessary action and form a Cauvery Management Board.

In addition to this, some popular multiplex theaters in Chennai are also closed down. They will be resuming the screening of films from 6:30 pm.

The theaters include - Sathyam Cinemas, Escape Cinemas, Pallazzo, S2 Perambur, S2 Theyagaraja, Sangam, Ega, AGS Cinemas and another section of multiplexes.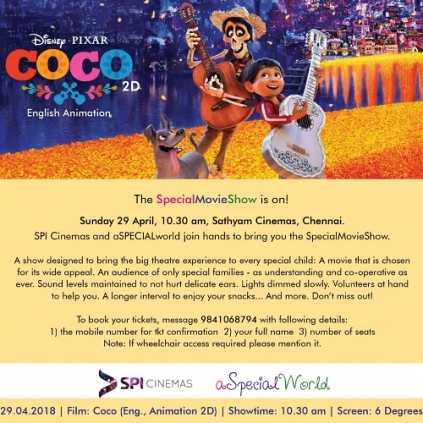 SPI Cinemas is always known for taking up new initiatives to make a movie watching experience worthier.

Now, the much-celebrated multiplex will have a special movie show of Hollywood animation film, Coco on April 29, at 10.30AM. This show will be exclusively for specially-abled children, and the sound levels, for this particular show will be maintained to not hurt delicate ears. The management has also decided to have a longer interval for the children to enjoy their snacks.

To book the tickets, message 9841068794, with following details:
1. the mobile number for ticket confirmation
2. your full name
3. number of seats
Note: If wheelchair access is required, please mention it.

Movie Screening Details:
Date: 29 April, 2018
Film: Coco, English Animation
Showtime: 10.30AM
Screen: 6 Degrees, Sathyam Cinemas