Anjali plays one of the female lead roles in Vijay Antony's Kaali directed by Kiruthiga Udhayanidhi. On sharing her experience working with Vijay Antony, Anjali says, "I must say that Vijay Antony has a huge variation when the camera lens is off and on. He is completely calm and much reserved, but he transformed into a powerhouse when the camera is switched on. I am playing his partner in episodes that is set against the modern backdrops. My role in this film is sketched with humour and jovialness, which I believe audiences will enjoy and accept.

Vijay Antony has offered me some of the commendable songs for my 'Angaadi Theru'. But as an actor, he keeps focusing his improving his skills. I must admit that Vijay Antony and I are poles apart in real life. I am someone, who cannot stop talking and cracking jokes on the sets, he remains so calm and composed."

On shedding lights about Kiruthiga Udhayanidhi's directorial proficiency, Anjali adds, "There are quite some claims that there is a difference in working style of men and women filmmakers. But I would say that such assumptions are untrue. The way Kiruthiga has shaped my character in Kaali is very intensified and I am sure the audience will experience a film of valuable feel from 18th".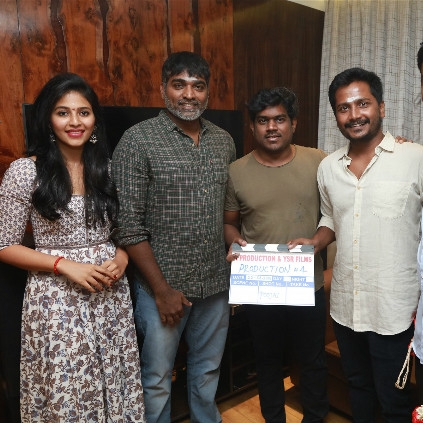 Actor VIjay Sethupathi is truly a multitasker of sorts. In addition to the many projects he is currently working on, he has signed up another film!

Bankrolled by SN Rajaraja's K Productions and Yuvan Shankar Raja's YSR Films, and directed by Arun Kumar (of Sethupathi fame), the film will star Vijay Sethupathi and Anjali in the lead. Also starring in important characters are Linga - as the villain - and Vivek Prasanna.

The rest of the cast will be revealed soon. Yuvan will also compose the music, and legendary editor Sreekar Prasad will sit at the edit table.

Notably, this is the third film of the Vijay Sethupathi-Arun Kumar duo, for which the opening ceremony was held yesterday, April 21, at Chennai. Shooting for this action entertainer will happen at Thenkasi and Malaysia.