Here is an official statement from Sridevi's family. They have also requested the media to respect their privacy and give them the space to grieve.

"The past few days have been trying times for us as a family. Today particularly has been one of the hardest. We laid to rest a beautiful soul who has gone too soon.

She leaves behind a legacy that is unique. Her talent was undeniable, her beauty unmatched and her ability to connect with the audience was legendary. Sri had the same connection with her family as well.

The one thing chat helped us all get through these last few days, was the amazing amount of love and support from everyone - be it her ma, colleagues, to her innumerable fans, her caring friends and loving family, from across the country and the world.

This outpouring of love is the memory that we would like Khushi and Janhvi co have of their mother... a woman who was loved unquestionably by everyone. Let us all who loved Sri, envelope her to little ones, her life, as she often called them, with as much or more love than we gave Sri so that they can live their lives ahead with a little less ache in their hearts.

Let us help them remember their mother fondly, with that beloved twinkle in her eyes, and help them build a life and be what Sri had dreamt for them.

To the members of the media, we ask that you respect the privacy of the family and allow us the space to grieve. Sri lived her life with dignity and we implore, that you give her the same respect.

Kapoor, Ayyappan and Marwah family"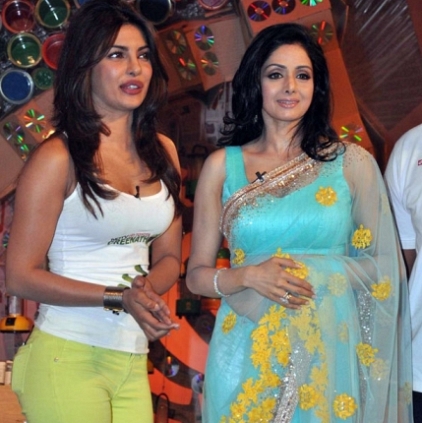 As we are all slowly coming out of the shock about Sridevi's demise, Bollywood diva Priyanka Chopra has written a note about the legendary actress, for a popular media.

Her note read, "She was born for the silver screen. As an artist who found her calling at the age of 4, she swapped playgrounds for movie sets and friends for directors and made 70-mm film her canvas. By her own admission, she would have it no other way. Born as Shree Amma Yanger Ayyapan, she changed the course of Indian cinema when she became Sridevi.

Sridevi Kapoor shared an intimate relationship with the camera, and it loved her like no other, passionately capturing every aspect of that expressive face and her equally expressive frame. She loved it back with equal force. Normally shy and quiet, Sridevi blossomed under its gaze, delivering such depth in her performance that it would leave audiences breathless, wishing that their dance would never end, craving just a little more.

Sridevi was India's first female superstar and at the time of her passing, on Feb. 24 at 54, had starred in close to 300 movies over five decades. She enthralled audiences across the globe in a variety of Indian languages (Telugu, Tamil, Kannada, Malayalam and Hindi). She owned every frame of every film she was in—without the need of a male co-star, bringing in audiences and setting the box office alight, firmly on her own shoulders.

Everyone wanted her and wanted to be like her. She could be childlike, grown up, funny, serious, beguiling, sexy—she was the ultimate actor. Sridevi leaves behind a legacy that will live beyond us all, a legacy built on the foundation of pure dedication, talent, hard work and a sprinkle of fairy dust that was showered on her by the Gods!

She was my childhood, and one of the big reasons I became an actor. To refer to all of us as mere fans would be a disservice to her. When the news first broke of her passing, I was immobilized. All I could do then was listen to songs from her films, revisit her interviews and watch her iconic scenes over and over again. I knew I was not alone; millions were feeling that exact emotion of shock and loss. Her connection with the audience was so strong that each one of us has special memories linked to her.

She left us too soon. My last memory of her is a red-carpet moment from last December. In the frenzy of flashbulbs and whirring cameras, she pulled me into a tight hug and spoke lovingly and excitedly about her two daughters, Jhanvi and Khushi. Her family was her life. She left me feeling warm and fuzzy, and with a promise to meet again.

But angels don't pass on. They just shine brighter in another realm—so I will always look out for her in the sky."

Thank you for the magic, Sri ma'am. Forever your fan.

By
Priyanka Chopra"