Ultimate Star Ajith is a person known for his off-screen abilities. He is a skilled bike rider, equally adept at driving cars too. He has a pilot's license. He treats his co-stars to delicious food. He is a great photographer, and what not!

It seems, the actor has added yet another weapon to his arsenal, as he was spotted at the Rifle Club in Chennai, today (February 19).

However, it is not clear if shooting is his hobby or a part of his training for Viswasam. The film was supposed to go on floors in January, but has been postponed to March. Ajith's look and hairstyle for the film has also not been confirmed. We can only know these details when the film's production progresses.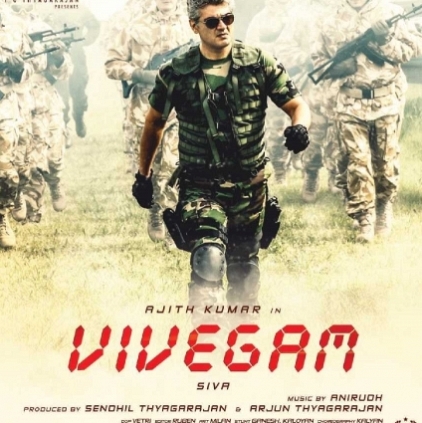 The first glimpses of Vivegam that we caught were the on-set images of Thala Ajith. He looked stylish and sophisticated. We saw how he transformed himself for this film, physically, by stunning us with his six packs and inspiring all his fans, and unanimously, all his co-stars. The first look took social media by storm and gave a strong essence of an international film.

Completely shot in Bulgaria and its neighboring European countries, the film promises to be an entirely international premise. Director Siva strategically revealed many images from of Thala Ajith, one by one, on his Twitter page making sure that the fans are teased to the maximum level. Then came the teaser in which we saw a stylized AK. The cinematography, editing, and the locales were all ultra-modern and gave us a lot to expect. Anirudh Ravichander has been an important reason for the reach and the standard of this film to go one league higher. His music has been outstanding, and its paradigm has been thoroughly westernized.

The script seems to touch upon terrorism with some sequences involving military weapons and tanks, cyber-crime with space satellites, and it is widely discussed that it also includes the significance of time. Siva has taken a lot of effort in research to develop a storyline which would also showcase the mass side of Ajith, while also trying to deliver a classy script.

In the recently released trailer, we got a better view of the masterclass in Vetri's visuals and Ruben's cuts and every character's new avatar, making every element in this story, an important contributor to its pre-release success and rise in the expectation meter. With the film's release just two days away, will Ajith and team elevate Tamil cinema to international standards? We'll know soon.