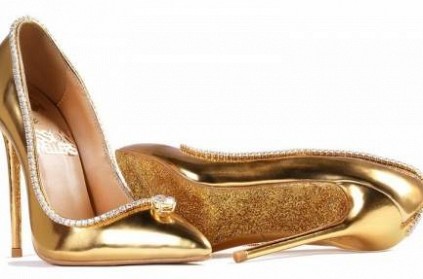 Dubai is known for its lavish setup and unique developments. Amidst the world's tallest building - the Burj Khalifa and the best ever shopping malls, a new addition has been made to the long list of Dubai's specialities.
The world's most expensive shoes are to be launched at the world's only 7-star hotel in Dubai, the Burj Al Arab on Wednesday. Reportedly, the shoes, named Passion Diamond Shoes are made of real gold. The shoes will have hundreds of diamonds embedded in it along with two imposing D-flawless diamonds of 15 carats each.
The shoes were created by Jada Dubai, in collaboration with Passion Jewellers. Only a prototype will be put on display at the event on Wednesday. After the sale, the shoes will be made in accordance with the customer's foot size. Along with the Passion Diamond Shoes, three more limited edition creations will be launched by Jada Dubai during the event.
The Passion Diamond Shoes will come with the price tag of $17 million (over Rs 123 crore). Previously, the Debbie Wingham high heels were the most expensive shoes in the world costing $15.1 million (over Rs 109 crore). The Passion Diamond Shoes will come with a fixed price and no sales will be permitted during the event. According to the creators, only one pair of the Passion Diamond Shoes will be available in the world.
Tags :
#EXPENSIVE #SHOES #DUBAI
next