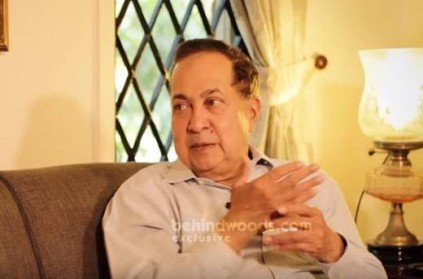 Speaking exclusively to Behindwoods, N Ram of The Hindu revealed his account of what happened at the court during the Nakkeeran case on October 9.
Nakkeeran Gopal, Chief Editor of Nakkeeran - a Tamil bi-weekly magazine, was taken into custody from the Chennai Airport following a complaint from Governor Banwarilal Purohit's office. The complaint was based on the magazine's reporting on the alleged sex scandal case at Madurai Kamaraj University.
On April this year, Nirmala Devi, a senior faculty member of Madurai Kamaraj University was arrested for allegedly luring female students to provide sexual favours. In an audio clip that was released, Devi claimed that she knew the Governor, who was also the Chancellor of the university. However, Purohit denied any link with Devi and ordered an enquiry into the scandal.
Gopal was subsequently booked under Section 124 (Sedition), which renowned journalist N Ram successfully argued as being inapplicable. Gopal was released a few hours later by the Magistrate on grounds that the section under which he was arrested was not applicable.
When asked on how he became a part of the case, Ram answered that it was not new at all. He explained how he is part of a group that takes interest in such cases, consisting of his brothers, Murali and Ravi. Recalling the day, Ram said, "Journalists who supported Gopal went to the police station but they were not allowed inside. Vaiko went and got detained. We went to the hospital next but could not go inside. Stalin could go since he is the leader of the opposition and nobody will stop him but it is difficult for us. So we went to the court."
"I was let inside the court. Everyone was clad in black gowns while I was wearing a light blue shirt. The Magistrate asked my opinion on the case. I told him that it is not illegal and it does not violate any law. He asked me what I personally thought and I replied that I will not file such cases as it does not meet our standards," Ram recalled the happenings at the court.
Ram explained that if the Governor replied to Nakkeeran's reports, Gopal will have to report them. However, the situation was in no way defamatory. Ram was asked by the Magistrate if his views could be recorded to which the journalist accepted. Ram praised the Magistrate for listening to both the sides' detailed arguments.
Despite the detailed proceedings, the government could not provide any solid argument. "His (the Governor) supporters claim that such reports will affect him psychologically. My response to them is such a weak-minded President or Governor need not be in the hold of such a position. They can stay at home or do something else. If you are mentally affected by harsh criticisms then you are not fit for that post."
Watch the entire video here for more of his interesting interactions.
next