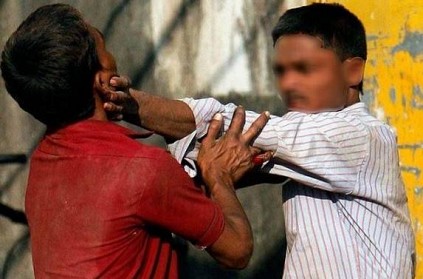 In a bizarre incident in Bengaluru, two men were found publicly fighting for a woman, who ended up leaving with a third person. The incident took place at Bavikere Cross, a village junction on NH-48.
Shashikala reportedly has a complicated love story. She was married to Rangaswamy for 10 years after splitting in 2010. Following her split, she lived with the supervisor of her garment company, Ramesh Kumar.
However, in 2015, she found herself another man, Kumar, but got separated in six months. Reportedly, she has been living with a married man with 2 children named Chikkabadarukallu Murthy since 2017. It was during this time, Siddaraju, a cab driver wanted to get married to Sasikala and proposed to her.
Shashikala decided to go with Siddaraju since he was a bachelor. She was standing with Sidduraj at the bus stand when Murthy decided to show up and fight for his love. Murthy and Siddaraju fought intensely, which was even caught on camera.
The police had to intervene and the three were taken to the station. The story got even weirder after Shashikala was asked to choose between the two. The lady reportedly chose a third man who had come inside the station and walked out with him.
next