There were reports surfacing on social media, saying that it has been decided by Coimbatore Distributors Association, not to give any movies to popular theatre owner and distributor Tiruppur Subramaniam. On this note, the much-experienced trade expert clarified on the same, and also on various other issues, through his audio statement.

He said, "While we decided to have a meeting with Tamil Film Producers Council, they (TFPC) told our Tamil Nadu Theatres Association head that I should not be attending the meeting. For the welfare of the association and the industry, I decided to step away from the meeting. Two to three meetings between our association and TFPC happened, and there was no improvement.

Then, I decided to get into the issue, and I called a top office-bearer in TFPC, a few days back. I asked him what the issues were to be sorted out and he placed the questions one by one. First, he asked about transparency, for which I told, we have already asked one month's time for that and would be implemented very soon. Next, he asked us to reduce the online ticketing charge amount. I replied, that the online charge amount does not reach us, and instead, it goes to the service provider and others. To stop all these, TFPC can start an online ticketing website by themselves. I enquired about it, and it costs only a reasonable amount to host and run a website. TFPC can do that, and if it functions well, all our theatres will join the site.

The next question was about, quoting less ticket prices for smaller movies. We have already asked about the same to the Government to approve, and they have agreed to. Once they give the official order, it can be regulated.

Now, I wanted to talk about the QUBE issue to him. All language films are screened in Tamil Nadu, and this is happening only because of the progress of the digital format. If not, all these films wouldn't reach the small-scale theatres. We have comfortable seating features, have A/C facilities, but we do not charge any of that, to the producers. We bear those charges, but, now, TFPC wants to share the VPF rates with us. We don't get any income from the VPF, that you pay. Most of the VPF rates paid by the producers go only to the QUBE.

I recently saw Vishal speaking about how the audience should be brought into the theatres, with low rates and good facilities. We know how to bring our audience inside the screen. You do not have to tell about that. When you asked us not to interfere with your business, we adhered to it. So, you also please do the same. If you have any issues or problems with theatres/theatre owners, let me know. If any theatre owner is cheating the producer without showing the right collection stats, cite their name, and our association will take care of them. Immediate action will be taken. Instead, don't accuse the whole theatre owners group.

You are ready to pay VPF charges for the movies screened in theatres, outside Tamil Nadu, but not in TN? Why is this indifference? Why is there a separate rule for theatres in Tamil Nadu, and theatres outside Tamil Nadu? We will not bear the VPF charges, and this is our only request. If the problem has to end, it has to be equal. I speak this, on behalf of all the theatre owners.

I also saw a post about the decision of not giving any movies to me, by Coimbatore Distributors Association. Theatres association has some respectable legends, who like to hear and see me affected. Thunbam varadha rasikuranga. But the distributors association themselves told me that they have not taken any decisions like that. All the exhibitors and distributors, who have done business with me in Coimbatore know about my word and my honesty.

If there are 100 people, obviously at least 10 people will not like you, and it is usual. Those 10 people will talk ill and bad about you. But you should not worry about that. So, I do not care about that. The Coimbatore Distributors Association have denied that rumour."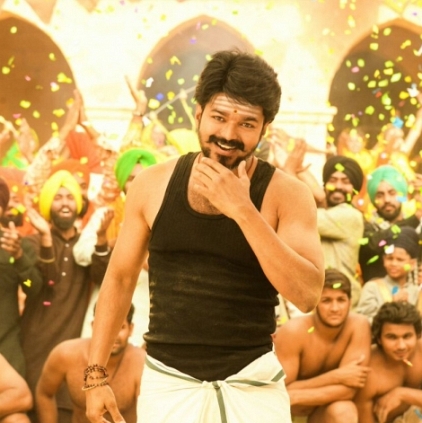 'தளபதி' விஜய் நடிப்பில் கடந்தாண்டு வெளியான 'மெர்சல்' பாக்ஸ் ஆபீஸில் தறிகெட்டு ஓடி வசூலை வாரிக்குவித்தது. எனினும், ஒருசில ஊடகங்கள் 'மெர்சல்' தோல்விப்படம் என தொடர்ந்து செய்திகள் வெளியிட்டு வந்தன. இந்த நிலையில், பிரபல விநியோகஸ்தர் திருப்பூர் சுப்பிரமணியம் அவர்களிடம் 'மெர்சல்' வெற்றிப்படமா? தோல்விப்படமா என்ற கேள்வியை நாம் முன்வைத்தோம்.

இதற்கு விநியோகஸ்தர் திருப்பூர் சுப்பிரமணியம் அளித்த பதில் பின்வருமாறு:-

விஜய் நடிப்பில் வெளியான 'மெர்சல்' திரைப்படம் கோயமுத்தூர் பகுதியில் மட்டும் சுமார் 12 கோடிகளை வசூல் செய்தது. இதன் மூலம் 'எந்திரன்' படத்தின் கோயமுத்தூர் வசூலையும், மெர்சல் முறியடித்தது. கோயமுத்தூர் மட்டுமின்றி பிற பகுதிகளிலும் 'மெர்சல்' படம் நல்ல வசூலைக் குவித்ததாக அப்பகுதி விநியோகஸ்தர்கள் என்னிடம் தெரிவித்தனர்.

'மெர்சல்' மிகப்பெரிய அளவில் வசூலைக் குவித்ததால், அப்படம் தோல்விப்படம் என்று கூறுவதை என்னால் ஏற்றுக்கொள்ள முடியாது. 'மெர்சல்' படத்திற்கான சம்பளம் மற்றும் தயாரிப்பு செலவுகள் குறித்து எனக்கு தெரியவில்லை. இதற்கு அப்படத்தின் தயாரிப்பாளர்கள் தான் பதிலளிக்க வேண்டும்.

ஆனால், ஒரு விநியோகஸ்தராக 'மெர்சல்' எல்லா இடங்களிலும் நல்ல வசூலைக் குவித்தது என்பதை என்னால் உறுதியாகக் கூற முடியும்.