Popular actress and Bigg Boss fame Suja Varunee has lashed out on online abusers, who make dirty comments about her private body parts.

A very angry Suja, shared her official statement on Twitter, which read, "I would like to take a few things out of my head and make it public, because when there is no shame among men on the Internet or in reality, who always have guts that they could just create a default account and post whatever shit they want to post!!!

Let me be clear, don't think your safe for the rest of your lives and you can continue to post anonymously. The biggest problem is your uncontrollable sex rage + the Internet age is in the hands of such idiots. They use the Internet only for sexual abuse of women in various industries.

I'm an actress & whatever I do, I'm proud of it. I earn and eat my daily bread with pride! There are my own views how to showcase or dress myself in films or any public events. If these dressesare the only problem(?!), then why the hell would you rape the poor child, 'Hasini' (remember the girl from Porur, Chennai) who lived 3 blocks away from my house & what about all the acid victim girls? They are all most well dress and harmless beings.

We are not the problem! It's you. It's your 'Sex Rage'. When you can't even get your eyes off an old lady or even your housemaid, it's you, and you are the problem!

Many female bodies will be well proportioned. It's nature and that's how some are created. As men, you want to admire it. Go ahead! Go ahead, admire even your mother's or sister's too! But, sexually abusing or the sexrage doesn't mean you are superior because you got balls and you can just comment and decide whomever you want to fuck!!!

I don't care about people or my friends telling me why do you even care to shout at these fools or make a publicity out of it!! I just don't care. My message today is for all the women and men. Don't think you can hide and escape because no one can find you in this big universe called the 'Internet'.

So many technical elements found and there will come a time to track you down and cut your balls off and shut your mouth with it very soon! Not all women are good! Not all men are bad! I will never adjust or co-exist with these fools errand. I will always raise my voice not only for me but for many who face the same problem and have adjusted for many years. I will always register my anger! I will go far beyond. This is to all the shitheads. I'm ready to face and fight! Face me if you've got the balls??!!

#YouCantHideForever #NeverAdjustNonSense"

On the positive side, it is good to see an actress coming out and speaking up against online abuses! Keep it going, Suja!

*post is not spell-checked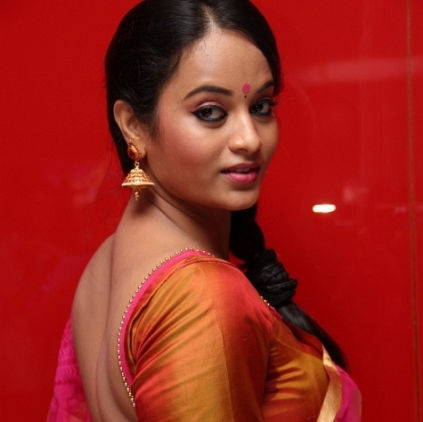 A section of media had reported that Bigg Boss girl, Suja Varunee got engaged recently, and would get hitched very soon. However, the Kidaari actress took to Twitter to clarify that the news is a baseless rumour.

She clarified the rumours with her statement, in which she explained, "To my dear media friends, please don't panic or spread rumours about my false engagement. Let me be clear to all that me and my loved one, we both made a visit to Tirupathi for a Suprabatham Dharshan, which we had planned long ago.

I would definitely inform all of you if there is any official news update about my personal life very soon. Until then do not use unnecessary tricks for your gain and affect others. We are all friends, I would always want a mutual respect between us. Currently, I am focussed about promoting my film, Iravukku Aayiram Kangal, which is about to release on 11th May. So kindly support me as you do always.

Thank You
Yours loving,
Suja Varunee"