Comedian Sathish, in his speech at the audio launch of Velaikkaran said that the film will be on the lines of Ghilli and Veeram, dedicating to a specific class of people.

He said, "When football and cricket were at its peak, unexpectedly came Ghilli, which was a dedication to all the Ghilli players. Likewise, Ajith sir showed that it is gethu, to feature in salt n pepper look, in Veeram. Same way, Velaikkaran will give a gethu feeling to all the hard working people around us. It is a proud moment to be with Sivakarthikeyan. I would like to bring a Bigg Boss reference now, and like Kattipidi Snehan, I want to hug Sivakarthikeyan."

As said, Sathish invited Sivakarthikeyan to the stage, and hugged him, expressing his gratitude.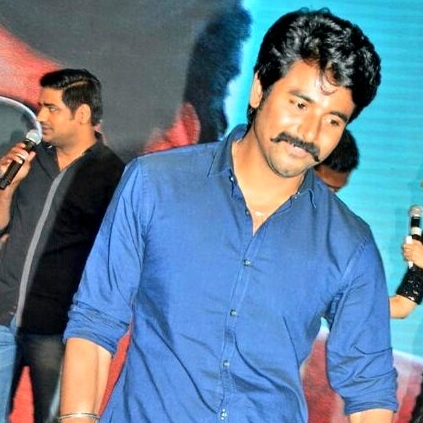 Sivakarthikeyan's speech at Velaikkaran audio launch was one of the major highlights of the event, where he made a breaking statement that he will no more act in advertisements.

Sivakarthikeyan stated, "For the first time in my career, I went to a director and asked for an opportunity and said we would do a film together. It was due to the impact that Thani Oruvan gave me. Everyone seems to make fun of Raja sir for doing remakes, but not many know that remakes are the biggest challenge. No one knows the toughness. I rejected nearly 10 remake film offers that I got, only due to the fact that I know I can't do justice to the original version.

Velaikkaran is the gem of Raja sir, and the whole team has worked, believing him and his content. If my character or performance gets any appreciation, the whole credit goes to Raja sir. Fahadh Fasil is an international actor, and I can openly, with no fear, say this anywhere. Having him on my opposite side, it gave me a boost to perform more effectively. We both have become good friends now, and I am learning a lot from his acting. It will be a very special role and a special film for him.

It is a happy moment to act with Nayanthara. I first saw her at the shooting spot of Aegan. Myself and Arunraja were supposed to come in brief roles in the film, and at that time, we saw her. Then, it was Ethir Neechal, where she made an appearance for a song. After that, only at the shooting spot of Velaikkaran, I saw her. The one thing that hasn't changed at all in all these three film shooting spots, is her punctuality and perfection. That is why, I feel, that she has established a market for herself.

I have seen a few memes on Twitter saying that, 'If there's no Anirudh, there is no Sivakarthikeyan'. There is nothing more happier than reading those. I feel great that Ani has supported me so much with his music, and shares a huge credit for my growth. Out of my 11 films, five of them have music by Anirudh, and half of my career has his share. Editor Mohan sir saw the film recently and appreciated me. I felt so happy and I hope that the audience also has the same reaction.

Through this experience of acting in Velaikkaran, I have decided, not to act in advertisements anymore. Not just that I am against it, but I do not want to convey a wrong message to people. I do not want a kid or a woman or a family to be misguided due to my words in the ad. I am responsible for what I am doing. So, I will not act in ads anymore. I have done one ad before, agreed, but, counting from this day, I will not do any ads.

I can entertain the audience with 9 films, but one film, I'd want to do something challenging like Velaikkaran. It has given me a hope. The film has changed me a lot, as a person, and it will also continue to do so in the coming days.

I would like to personally thank Vijay Vasanth for giving the title Velaikkaran. Actually, he had bought the title for his next film as hero, from Kavithalaya Productions. But when, we went and asked, they immediately understood and gave us the title. A big thanks to him, for giving the title, without any hesitation."