சசிகுமார், விஜய் சேதுபதி, லட்சுமி மேனன், சூரி மற்றும் பலர் நடிப்பில் கடந்த 2012-ம் ஆண்டு வெளியாகி ஹிட்டடித்த படம் 'சுந்தரபாண்டியன்'.
ரசிகர்கள் மத்தியில் மிகப்பெரும் வரவேற்பைப் பெற்ற இப்படத்தின் 2-வது பாகம் தற்போது உருவாகவுள்ளது. நாயகனாக சசிகுமார் நடிக்கும் இப்படத்தை முதல் பாகத்தை இயக்கிய எஸ்.ஆர்.பிரபாகரனே இயக்கவுள்ளார்.
சசிகுமார் தற்போது 'நாடோடிகள்-2' படத்தின் படப்பிடிப்பில் பிசியாக உள்ளார். 'நாடோடிகள் 2' முடிந்தவுடன் 'சுந்தரபாண்டியன் 2' படப்பிடிப்பு தொடங்கும் என எதிர்பார்க்கப்படுகிறது.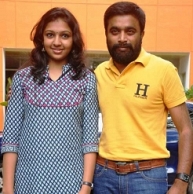 The audio launch of the latest Sasikumar-Lakshmi Menon film, Kutti Puli, was a relatively low key affair as it took place live on-air at a radio station during primetime hours in the morning. The film is directed by first-timer Muthaiah and has music by M. Ghibran.
For quite sometime now, the makers have been very cautious about releasing the film at the right time to ensure that it enjoys good visibility. Now the date that has been fixed for Kutti Puli's release is 30th May, according to the film's distributor Udhayanidhi Stalin of Red Giant Movies. The film is bound to receive decent promotions as its been acquired by Sun Pictures who will use their home network to advantage.

We will have to wait and see if this will be yet another 100 day repeat from Sasikumar and Lakshmi Menon.
Sasikumar Joins again with S.R.Prabhakaran for Sundarapandian2 tamil cinema news
People looking for online information on M Sasikumar, SR Prabhakaran will find this news story useful.