Raai Laxmi's Julie 2 is releasing this Friday, on November 24, on the silver screens, and the film has got a good buzz with its sexy trailer and promos. Behindwoods recently caught with Raai Laxmi for an exclusive interview, where she discussed about the difficulties of performing bold, intimate and glamour scenes.

She said, "It took me a lot of time to get into the character of Julie, and that was the biggest challenge. I faced difficulties during the initial stages, but with the second and third schedules, I started to manage. You just think, how uncomfortable it would be, to perform bold scenes in front of thousands of technicians. This is acting, yes, I agree, but still. All of them would be seeing my bold, intimate scenes, from various angles, say lightmen, from the top, other technicians from the side, bottom, and it just gets uncomfortable, while you perform.

That is the case while doing bold scenes like that. Thankfully, Julie 2's director Deepak understood my feelings, and he had only a very close set of core technicians while filming those scenes. I obviously can't go tell him that I don't want many people inside the set, seeing this, but, he himself understood my feelings and told, the third and fourth set of assistants to leave the place."

Talking about Julie 2, she said, "This film's story is very much contrasting from the first instalment. More than the explicitness, it is a racy edge of the seat thriller, with nail bitting moments. The scenes which you expect (intimate scenes), will feature in the second half of the movie, but it would be good if people don't see the movie for that. Julie 2 has a strong content and a racy screenplay."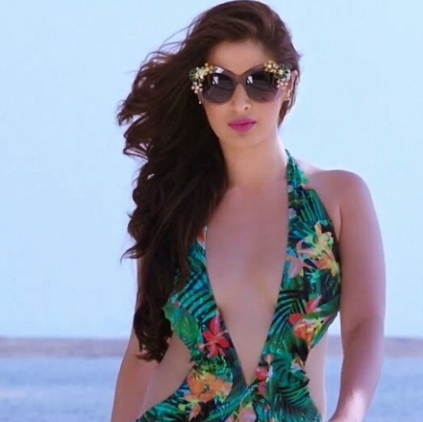 Raai Laxmi's next film Julie 2 is being produced by former CBFC Chief, Pahlaj Nihalani. It is reportedly said to be based on real-life incidents that an actress faces in the entertainment industry. However, the makers of Julie 2 have not revealed any names of such actresses.

There were many reports and rumours that stated that Julie 2 was loosely based on references and incidents from 90's sensational actress Nagma's life. However, when she was asked by the press about the same, she is said to have been shocked and surprised and did not know of any such information.

Nagma has also reportedly stated that she cannot comment on this issue till the film releases and that it is just to gain publicity and attention that Padmavati has been getting. She has also reportedly stated that she did see a few similarities but that she is not sure if it was coincidence or a deliberate attempt.