Earlier this morning, controversy popped up after the news that TFPC allowed four Tamil films to shoot, (after the producers of the respective films procuring permission), despite the strike.

The four films included Thalapathy 62, Naadodigal 2, Kannum Kannum Kollaiyadithaal, and another untitled film.

In a recent interview with Behindwoods, popular actor, producer, and director Manobala raised questions about the shoot of Thalapathy 62, amidst the total industry shutdown.

Manobala questioned, "They say, if we give a letter, they will allow shooting. What is this? How much time is it going to take for every producer to write a letter, take a print out and submit it? These are all lame reasons.

For Vijay 62, they say that the stunt master is not available for the next two months if they leave this date. What is this? This is too much. We all are standing together, to fight against an issue, and for the betterment of the whole industry. Why is there a hurry? How can this happen? TFPC is discussing with various associations to solve the issue and let us give time.

If Vijay sir is giving his dates next month, for the film, and they ask the stunt masters to come back, obviously the masters are going to come. Why can't they do that? Allowing Naadodigal 2 shoot is acceptable since Samuthirakani asked for just one-day extension so that the entire schedule can be completed. That is fine since they are filming with a limited budget. But, for Vijay 62, more than three months of shooting is still left, and why can't they wait?

If they are allowing Vijay 62 shoot to happen, why not other films? Director Kannan (Jayam Kondan fame), requested TFPC to allow him to shoot his film Boomerang since the whole schedule was planned during the strike's dates. Kannan said that his whole schedule plan will get affected, but they were not ears for that, and the TFPC didn't have an answer. Now, they allow these films. Why is that so? Either allow everyone to shoot, or ask everyone to stop."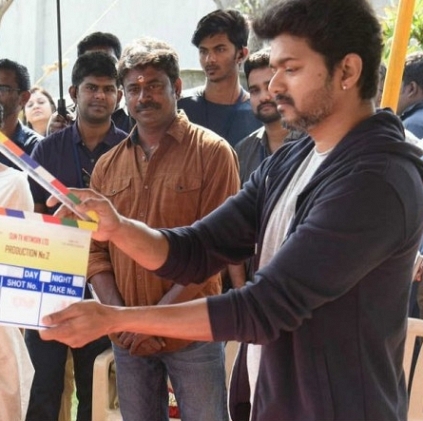 கடந்த 16 ஆம் தேதி முதல் தமிழகம் முழுவதும் படப்பிடிப்புகள் நிறுத்தப்பட்டுள்ளன. மேலும், வருகிற 23-ம் தேதி முதல் வெளிமாநிலங்கள் மற்றும் வெளிநாடுகளில் நடைபெறும் படப்பிடிப்புகளும் ரத்து செய்யப்படும் என்று அறிவிக்கப்பட்டுள்ளது.
இந்த நிலையில், 'தளபதி 62' படத்தின் படப்பிடிப்பு சென்னையில் உள்ள விக்டோரியா ஹாலில் நடைபெற்று வருகிறது. இதனால் விஜய் படத்துக்கு மட்டும் தயாரிப்பாளர் சங்கம் சிறப்பு அனுமதி கொடுத்ததா?' என்ற கேள்வி எழுந்தது.
இந்த நிலையில், தயாரிப்பாளர் சங்கச் செயலாளர் எஸ்.எஸ்.துரைராஜ் ஆடியோ பதிவொன்றை வெளியிட்டு இதுகுறித்து விளக்கமளித்துள்ளார்.
அதில், "ஸ்டிரைக் பற்றி முடிவு செய்யப்பட்ட போதே, ஏற்கெனவே ஷூட்டிங் நடத்த முன் அனுமதி வாங்கியிருந்தால், ஓரிரு நாட்களுக்கு படப்பிடிப்பு நடத்திக் கொள்ள அனுமதிக்கலாம் என முடிவு செய்திருந்தோம்.
இதன் அடிப்படையிலேயே, விஜய் படத்துக்கும் அனுமதி அளிக்கப்பட்டது.விஜய் படத்துக்கு மட்டும் இந்த அனுமதி தரப்படவில்லை. மதுரையில் 'நாடோடிகள் 2' படத்தை இயக்கி வருகிறார் சமுத்திரக்கனி.
இரண்டு நாட்களில் மொத்த ஷூட்டிங்கும் முடிந்துவிடும் என்பதால், அவருக்கும் படப்பிடிப்பு நடத்திக்கொள்ள அனுமதி அளிக்கப்பட்டுள்ளது.இதுபோல் இன்னும் ஒருசில நிறுவனங்களும் அனுமதி பெற்றுள்ளன.
எனவே, விஜய் படத்துக்கு மட்டும் தான் சிறப்பு அனுமது என்பது தவறான தகவல்" என தெரிவித்திருக்கிறார்.