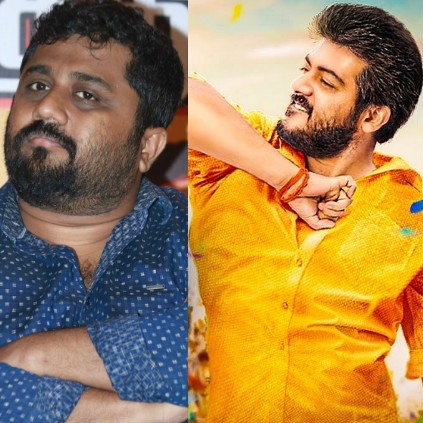 It is a known fact that Studio Green K.E.Gnanavel Raja recently stepped down from the Producers Council to contest in the Chennai Kanchipuram Tiruvallur Distributors Association Election.

Through an official press statement, Gnanavel Raja has revealed the reason behind his move to contest in this election.

"Everyone will know the motive for my decision to contest in Distributors association after reading this story.

Hyderabad based production company Arka Media Works, sold the theatrical rights of the Tamil version and TN rights of their film Baahubali 2, to S.N.Rajarajan of K Productions. Rajarajan decides to sell the film to individual distributors, district wise, and he sells the Tamil Nadu release rights to Aascar Films V.Ravichandran, signing an agreement. He also receives an advance of Rs.8 crores from Ravichandran.

But then, Anbuchezhiyan enters the scene, who pressurizes Rajarajan to put a second agreement with Mr.Saravanan of Sri Green Productions, which means, he should cancel the agreement put up with Aascar Ravichandran already. With the help of the Current Distributors Association President, Mr.Arulpathi, Saravanan signs the TN rights agreement. Ravichandran is being called for a discussion meeting, where he is pressurized to withdraw from releasing Baahubali 2.

The members tell him he might have to face a big loss if he distributes Baahubali 2, but Ravichandran stays strong in his decision. However, after continuous threats, a renowned producer and distributor like Ravichandran is being made to back off from distributing the film.

Once he backs off, Anbuchezhiyan now locks Saravanan with his plans. Fortunately, the film is sold for a good price of 24 crores, which goes directly to Anbuchezhiyan. The TN rights of the movie was sold for 34 crores, which makes a business of 70 crores (share) at the TN box office. But, till now, the producer of the film, hasn't received any share of collections, that he should've actually got.

The current association members, Arulpathi and Padur Ramesh, make use of these problematic situations to improve their personal welfare, having a mutual understanding with Anbuchezhiyan. Problems like these happen for every big film, and who knows, it might happen even for Ajith's Viswasam.

So, to make sure, problems like these, do not repeat again, I am contesting for the President post in the coming elections, on behalf of Namma Ani. Our team will also be contesting in the upcoming Madurai Distributors Association Election which is expected to happen soon."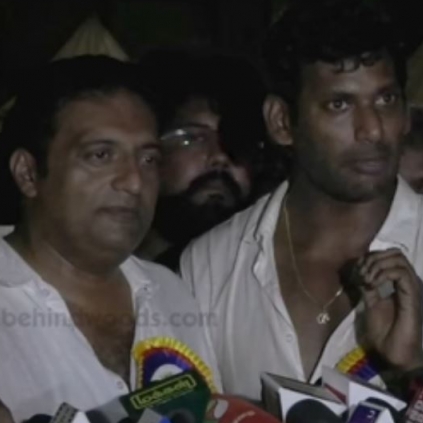 The Tamil Nadu Film Producers Council elections took place yesterday (2nd April) in a calm manner. The results were announced by the end of the day and actor Vishal was chosen as the President, Prakash Raj and Gautham Menon were elected to be the Vice-Presidents, SR Prabhu as the Treasurer and Kathiresan and KE Gnanavel Raja as the secretaries.

After the results were announced, all the winners gave their victory speeches and conveyed their gratitude to the voters. We present to you some of the winners' speeches.

Prakash Raj- ''It is a victory for the change. We said that Change is the only thing that doesn't change. This victory is an excellent example of the fact that if anything goes wrong, and there is somebody to stand for it, and if there are sincerity and truthfulness in that stand, any level of victory can be achieved. This success proves that a change was necessary and all the producers have voted for that change. We are very happy, and we have a lot of responsibility. We will be the change that we promised.''

SR Prabhu: ''Namma Ani's success is the success of every producer who wished for the change. This is a victory for the change. As we said, this team will come forward and serve for the change that each producer is looking for. Thanks to everybody who stood by this team and helped in this success.''

KE Gnanavel Raja: ''Thanks to the Press and Media for being here and helping us conduct this election in a calm and efficient manner. I'd like to thank all the 1059 voters. We've gotten a good team. We will work well along with Kathiresan sir. The following two years will be refreshing for all the producers who voted for us. We will guarantee to solve the theater issues, piracy problems, and all other obstacles. We are euphoric for Kathiresan sir's victory as well. We'd like to thank all our seniors who wished us well and had good intentions. I'd like to thank the judge Rajeshwar who conducted this very well. Thanks to the police department and the press for staying here all day in this scorching heat and covering the whole election. Thanks to everyone who were supportive of us. On behalf of Vishal's team and the Producer Council, I'd like to thank everybody.''

Kathiresan: ''At this time I would like to thank all the producers who voted for me, and I dedicate this victory to them. Without looking at this just as a position, I would serve this council with utmost sincerity and responsibility. I will work for every producer's benefit. Thanks to the Press and Media. ''