Here is an intense romantic number from Siddharth's Aval, Kaarigai Kanne, also starring Andrea. The film is directed by Milind Rau.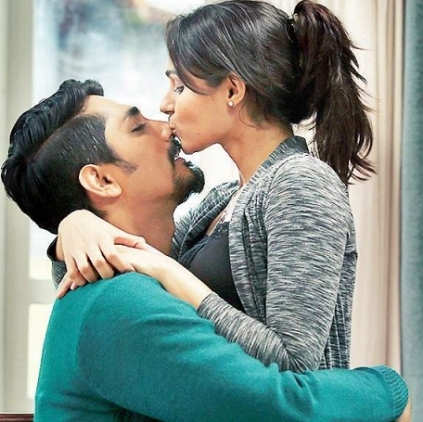 Actors Siddharth and Andrea Jeremiah's movie together in Tamil is Aval directed by Milind Rau, a former assistant of Mani Ratnam. The movie's teaser and trailer have released in succession and it seems to be an interesting dosage of horror with no compromises of any sort.

The trailer has some really good visuals by Shreyaas Krishna and the tone of the film seems to be very attractive. It is said to be based on a true story and the trailer is gripping on the whole. It is evident that Siddharth and Andrea have put up a good show and the movie has been targeted to scare audiences like in most Hollywood English horror films.

The standard of the technical team is fabulous and this could be the biggest backbone for this out and out horror genre. The flashback portion of a horror movie is always the most important and just from a few shots seen in the trailer, it seems to be impactful.

During the press meet of this movie, Andrea Jeremiah said: "I am not going to watch this movie at all as it is super scary!".
Siddharth said: "I have been friends with Milind for 17 years and we worked together as assistants to Mani Ratnam sir. We have written the script of Aval together and it took us 4.5 years to complete the screenplay. We are proud to have done such a big budget horror movie. 'Aval' will scare you from November 3rd in theatres."