Thalapathy Vijay's Mersal is releasing in record number of screens worldwide from this Diwali 2017, and the fans are all geared up to witness their favourite star on the silver screen.

Unfortunately, one of the most important theatres in the Chengalpet region, Kasi would not be screening the film due to a few reasons. The management of Kasi Theatre posted this information on Twitter saying, "Since we are not satisfied with the terms, we shall not be screening #Mersal for this Diwali. In case of any updates, will keep you posted."

If at all, there are any improvements in the discussion, the film might be screened, but for now, Mersal will not be screened in Kasi theatre.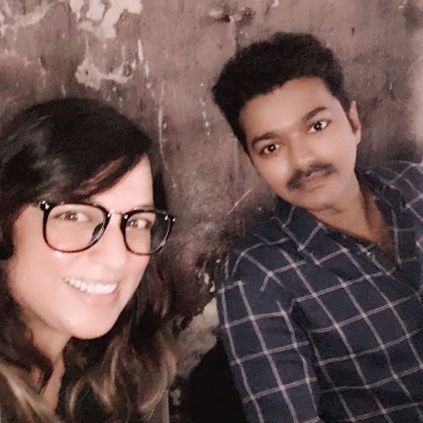 Komal Shahani one of the best celebrity stylists in town! She is based out of Bollywood and she has been working with Thalapathy Vijay since Thuppakki in 2012. She is the stylist for Vijay in Mersal for the magician and the doctor characters. We caught up with Komal for an exclusive interview. Read ahead to catch what she said about Mersal!


In Mersal, Vijay plays a triple role. How did you differentiate the costumes? What are the kinds of costumes does each one of this will have? If you can spill out a bit?

I have designed two looks with Vijay sir in Mersal 'the doctor & the magician.' I have kept a combination of dark and soft palettes for the movie considering his extreme characters that he is playing. I chose dark, mysterious tones like black, crimson, oxblood, blood red, navy blue, olive green, etc. for his Magician look and soft pastels like mint green, whites, pale pink, mustard yellow for the doctor look. Different appearances are so distinguishing between the Magician & Doctor, and it was somewhat refreshing to style him in multiple attires.

Thuppakki, Jilla, Theri and now Mersal. How does it feel?

It's the biggest high to style Vijay sir again. The trust he has shown in my work makes it more challenging for me while delivering the looks. Also, it's fantastic to see the feedback from Vijay sir's fans all over the world. It's always a blessing to have a continual relationship with him. This movie is even more special because of the multiple costumes we designed.

You are one of the best costume designers for Akshay Kumar. Tell us something about the kind of comfort you both share?

I believe in fulfilling my director's vision and creating something which goes with the character as well as an actor should be comfortable in those clothes.

You have worked with Vijay for years now. Any changes that you have seen in these years?

His growing stardom and increasing humility

Your favorite celebrity from Bollywood?

Akshay Kumar and Ranbir Kapoor

If you can name five celebrities that you would like to work with?

Alia Bhatt, Ranbir Kapoor, and Rajini sir

Name one costume designer whom you had always looked up to?

Reza Shariffi.

Bollywood and Kollywood. What is the difference that you see?

There is not much difference in terms of my work. Kollywood everything is very well planned.

5 years from now what can we expect from Komal Shahani?

More work and better work

Do you wish to work in historical movies like Baahubali? How experimental are you?

I would surely love to work on Historicals. I am entirely experimental or else I would cease to create anything new and relevant.

The makers of Mersal released the magician look of Vijay, and the costume was widely appreciated. What is the kind of research and homework that you had to do for designing the magician Vijay?

The magician looks had pieces like a tailcoat, a cravate in fiery red worn with a ruffled shirt and high waisted trousers and vest in jacquard. A tuxedo cut came with trousers, and a detachable vests & lapels apt for the tricks and magic looks designed to be worn in multiple ways, richly patterned silk jacquards were trimmed in velvet.

Upcoming projects?

Hoping to style & design for Vijay sir in the next Murgadoss film. (She signs off)


Prathik Raj