The Hindi film Tumhari Sulu starring Vidya Balan in the lead role was both commercially and critically successful. Now the film will be remade in Tamil featuring Jyothika in the lead role.

The Tamil remake rights have been bought by the Chennai-based BOFTA Media Works India, which is currently producing Mr Chandramouli.

Radha Mohan, who will direct the Tamil version, said, "I am excited to be directing such an appreciated film like Tumhari Sulu, and with Jyotika, with whom we had a great association in Mozhi. I was impressed with the realistic presentation of Tumhari Sulu and hope to re-create the magic in Tamil with Jyothika."

Jyothika says, "I am a big Vidya (Balan) fan. I love her voice and command over Hindi, which is rare in Bollywood today. I've watched every Vidya film, and Tumhari Sulu, in my opinion, is her most lovable work. I feel honoured to be stepping into her shoes. Kudos to the producers and to Suresh (Triveni) for making such a lively, honest, real and feel-good film!"

Said producer G. Dhananjayan of BOFTA Media Works India, "I am glad that Tanuj (Garg) facilitated the rights sale of such a wonderful film by T-Series and Ellipsis Entertainment. We are excited that the film is going to be reprised by a fine actor like Jyothika and directed by the hugely accomplished Radha Mohan."

Cast and crew details:
Lead Heroine: Jyotika Suriya
Story: Suresh Triveni
Screenplay and Direction: Radha Mohan
Director of Cinematography: Mahesh Muthuswami
Editor: Praveen KL
Public Relations: Johnson
Executive Producer: S. Saravanan
Financial Controller: CA Gokul
Produced by: G. Dhananjayan of Creative Entertainers and Distributors for BOFTA Media Works India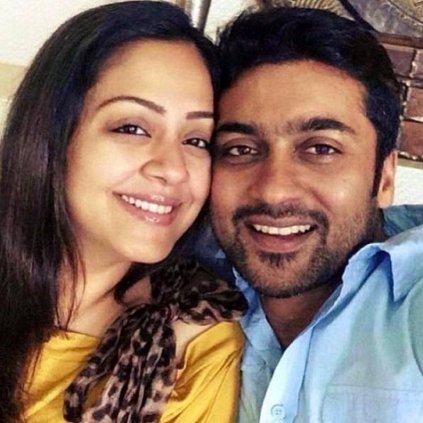 After a series of rumours floating across all social media platforms, finally, we got the official announcement on Jyothika's next. She will be working with director Radha Mohan as the lead in the remake of the Hindi hit film, Tumhari Sulu.

Suriya took to Twitter to make this awesome announcement. He said, "Happy to announce that Director #RadhaMohan and Jo are working together again after #Mozhi Hoping to see the magic repeat. All the best to the entire Team and Producer @dhananjayang sir @BOFTAindia congratulations!"

It is definitely going to be interesting to see Jyothika reprise Vidya Balan's role of a night RJ!