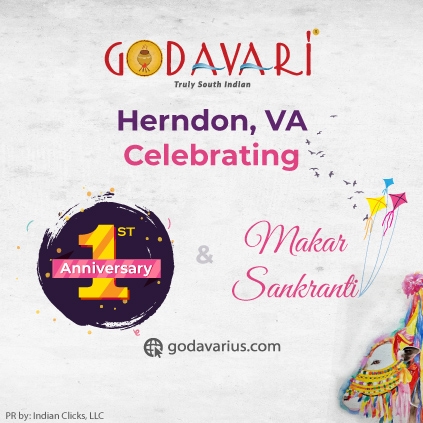 Godavari Herndon, the hottest of the Indian restaurants in Greater Washington area is now about to celebrate its first year anniversary with the great support from the food lovers in and around Greater Washington area.
"Team" Godavari would like to take this opportunity to thank all our customers, who have been supporting our Maryland and Herndon locations for more than a year and also wish everyone a "Happy Pongal" in advance.
Godavari Hendon would be treating this month of January as the 'Customer Appreciation Month' by serving amazing Lunch Buffets every day starting this weekend with brand new recipes and team.
"We are really grateful to all the food lovers in this area for their tremendous support to both of our locations for more than a year and making us the top South Indian restaurants in Greater Washington area," said Kamakshi Tummalapalli, who owns both Herndon and Gaithersburg locations.
Godavari Herndon is now ready with its new look and team for its anniversary month and amazing recipes from the villages of South India.
"Godavari" is also rolling out its new brand of Luxury South Indian restaurants named "Kiraaak" from this Pongal and their first location is in the Downtown of Salt Lake City, Utah.
Godavari would be serving brand new recipes with authenticity starting this year of 2018 in all our locations along with a "Grand Gala Buffet" for this Pongal in all the locations.
"Godavari Herndon" is very conveniently located to many corporate offices in Herndon and the World Gate Center, Herndon. We would welcome you and your family to celebrate our first anniversary this entire month with authenticity.
Looking forward to seeing you all at Godavari Hendon!
Godavari Herndon
Ph: 703-435-1270
CONTACT:
Kamakshi Tummalapalli
443-825-7492
Thanks again…. Hope you all enjoy our cooking….
Press note released by: Indian Clicks, LLC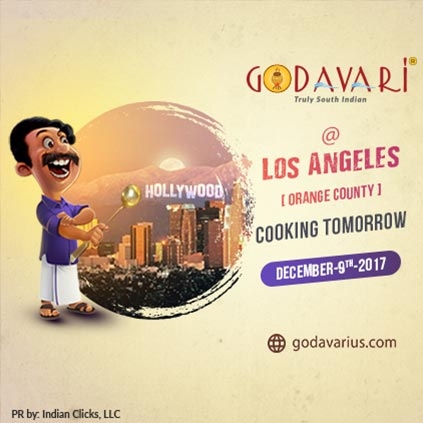 Hollywood: Godavari to open its 21st location in LOS ANGELES (Orange County), CA.

The fastest growing South Indian Food Chain "Godavari" is all set to start their 21st location in Los Angeles area in the renowned Orange County on December 9.

Known for its quality, taste and authenticity, "Godavari", was started as a small restaurant in Boston. It has been considered as the best South Indian restaurant in the Northern Hemisphere and is now flowing to the West Coast.

The new Godavari LA will serve with a HUGE Banquet Hall (Pushkara) which could fit more than 250 people with a Full Bar and Entertainment license. This would be a first of its kind South Indian experience in LA region.

"There is no authentic food in the LA region and we used to travel a lot to eat good food. Everybody is excited with the news that Godavari is coming to Orange County. We really need a nice restaurant with a nice buffet spread. The news that it would also have a huge banquet hall is really amazing," said Gopi Srinivas who in Irvine area for more than six years now.

Godavari LA is strategically located in the City of Lake Forest just miles away from Irvine and other cities where there is a huge Indian community and Corporate Hub.

Godavari LA will be opening its doors for the Grandeur Lunch Buffet with dishes like "Aritaku Idly", "Adayar Pongal", "Dosa Chat", "Sunny Leone Special Noodles", "Palletoori Pandem Kodi", "Jyothi Lakshmi Junnu" and many more.

"We were looking to open an authentic restaurant in LA area for a while and we could not find a better choice than Godavari for this. The team is amazing and everybody in "Team" Godavari works with energy and passion more than just a business. We are really fascinated to be a part of this family now," said Prasanna Eemani and Dhanu Donadi, Owners of Godavari LA.

We are happy to open this outlet with a huge Banquet Hall and will do our best to serve the community with no compromise in quality and authenticity, they added.

"We just entered our 20s in locations and this wouldn't be possible without the love from our customers and our franchise owners. We have a long way to go and our energetic team is growing as we grow. We are about to roll out amazing brands and concepts from the Godavari "Food Factory," said Jaswanth Reddy Mukka, COO of Godavari group.

Godavari Atlanta that was opened recently had a tremendous response and is now one of the must go spots for many Desi visitors visiting Atlanta. Here is the Grand Opening trailer: https://www.youtube.com/watch?v=zB55FwmOiLU

Come and Enjoy the Godavari's Delicacy……
Godavari LA (Orange County)
24416 Muirlands Blvd
Lake Forest, CA 92630
949-273-3327

Contact:
Prasanna Eemani & Dhanu Donadi
LA@GodavariUS.com
909-297-0450
Thanks again…. Hope you all enjoy our cooking….
www.GodavariUS.com
Press Note released by: Indian Clicks, LLC
Godavari to celebrate 1st Year Anniversary
People looking for online information on Godavari will find this news story useful.