"Godavari", the south Indian food giant now started their operations in Niagara Falls on the USA side of the park. Niagara is one of the tourist places which is visited by a tremendous number of visitors every year especially in Summer and there are no good options for Indian food.
With Godavari opening in Niagara Falls area, it is a very good news for the visitors who had been missing our food since ages. The 100-seater restaurant which is located right across the Niagara Falls state park is in a walkable distance.
The concept of "Team" Godavari is to spread the aroma of our South Indian food across the world wherever there is an Indian foot print and we did not want to miss a spot like Niagara Falls.
We got an infinite number of requests to open a high-quality Indian restaurant in Niagara area as everyone is suffering when they visit the falls without good South Indian food especially our Dum Biryani and Dosa. So, we decided and worked hard to get into the Falls area says Jaswanth Reddy Mukka who manages the operations of Godavari.
Godavari Niagara Falls will be open from 11 AM till 10 PM everyday with an enticing Buffet all day along with the Ala Carte orders.
This will be the only restaurant in the Falls area which serves the authentic South Indian food with reasonable rates and we are open through November. We as a "Team" are creating history in this area as the first south Indian place said Raja Munaga from "Team" Godavari.
Godavari is also going to be the first International food chain incepted in USA and going global with their new location opening in Muscat, Oman in couple months. This is also a unique location which is located just a few minutes from Oman International airport with a Banquet facility.
"Godavari" is also looking for good and enthusiastic partners in Canada so that the aroma could be spread across Canada as well. Feel free to reach out to Franchise@godavarius.com to express interest.
Hope you come and enjoy the Niagara Falls with some nice Authentic Indian Food!!
Location:
GODAVARI NIAGARA
431 3RD ST
NIAGARA FALLS, NY 14301.
Phone: 716-299-0066
Email: Niagara@godavariUS.com
Contact:
Raja Munaga
361-222-4222
Thanks again…. Hope you all enjoy our cooking….
Press release by: Indian Clicks, LLC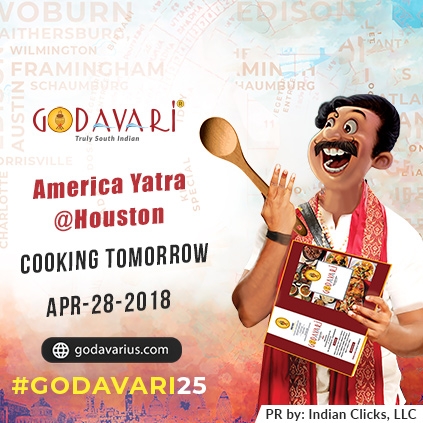 The world's Best and fastest growing restaurant chain "Godavari" is now opening their 25th location in Houston, TX this weekend of April 28, 2018.

As the World knows that "Godavari" was started by young and amazing Entrepreneurs just 35 months ago in Boston is making its history now with their Silver Jubilee location in Houston.

This is an iconic location on the main street of Westheimer in Houston is with a 120 seater capacity along with a 150 capacity Banquet Hall.

Godavari's success is mainly because of their locations and this would add it to the garland of their locations.

Godavari Houston is also going to be with their signature village theme along with a well-equipped banquet hall. We have been working so hard to get this project done as this is going to be a prestigious location for Godavari and Houston said Nagaraju Chekoti and Madhu of Godavari Houston.

Everybody expects fantabulous specials from the team on their opening and we are serving dishes like "Abbai Idly & Papai Payasam", "Thagubothu Kodi Vepudu", "Thangabali Biryani", "Rangamma Raagi Sankati", "Reddy Gari Mamsam Vepudu", "Jyothilakshmi Junnu" and many more said Nagamani and Varun of Godavari Houston.

"Godavari" is just a beginning of an era in the global Indian food industry and we proved the Village cooking will never lose it's charm and flavour when served right. We are entering into Muscat, Canada and Australia this year and also many other cities in the USA said Teja Chekuri, of Team Godavari.

"25" is just not a number it is the hard work of our 300 people working hard in this country leaving their families in India along with 25 Franchise owners who stood with Godavari inspite of many ups and downs in the businesses. We proudly call us a "Godavari Family" and we are going to grow bigger and bigger in next few years entering many countries said Koushik Koganti.

We want to enjoy the food with all you folks in Best South Indian restaurant in Houston, TX.

Come and enjoy the celebration of food…

Location:

GODAVARI HOUSTON
8092 WESTHEIMER ROAD
HOUSTON, TEXAS 77063
832-581-2922

Contact:
Naga Chekoti
Houston@GodavariUS.com
860-514-4099

Thanks again…. Hope you all enjoy our cooking….

www.GodavariUS.com
Press release by: Indian Clicks, LLC
Godavari restaurant opened near Niagara falls
People looking for online information on Godavari, Niagara Falls will find this news story useful.