Actor Karthi engaged in a Twitter chat session with his fans. Here we bring to you some of the interesting Q&A's from it:

1. Favourite cop film?
A. "Kuruthippunal"

2. When will you act with Suriya?
A. "Would love to do a film with anna. Waiting for a good script and an experienced director."

3. Any chances for Madras 2 to happen?
A. "We never planned for that. But me and Ranjith were planning to do a film together later on."

4. What made you to choose 1 film old directors like Ranjith for Madras and Vinoth for Theeran?
A. "#Madras-loved the guts of a director to write a film around a wall with distinct characters.

#Theeran- I loved #sathurangavettai and trusted Vinoth's ability to narrate this true story which I've heard myself many years back from police officers."

5. About Rakul Preet?
A. "Rakul Preet is a thorough professional. We were very impressed with how she adapted to the character so fast and how she is so punctual always."

6. Favourite AR Rahman album?
A. "Thiruda Thiruda"

7. Has your brother (Suriya) ever hit you when you were a kid?
A. "Niraiya Adi vangi irukken. Second kids have to face that problem.:)"

8. When will you become a director?
A. "After I write my own script:) which I feel is going to take a lot of time."

9. Will you direct Suriya?
A. "When I was an assistant director I was writing a script for anna only. Let's see, someday if I impress him with my script I may get to direct him:)"

10. About Mani Ratnam?
A. "Till today he works like a debut director. So passionate about his work and strives to bring out something new with every film"

11. Recent favourite Tamil films?
A. "#VikramVeda #Meesaimurukku (because am an engineer too)But waiting to watch "#Aval". Heard a lot about it."

12. About Ajith?
A. "Ajith sir is very warm and a thorough gentleman. You will like him more after you meet him"

13. A word or two about Vijay?
A. "I've known vijay sir since he was in Loyola college with anna. Extremely simple man but very confident."

14. About SR Prabhu?
A. "Intelligent, socially responsible and loves challenges."

*Tweets are not spell-checked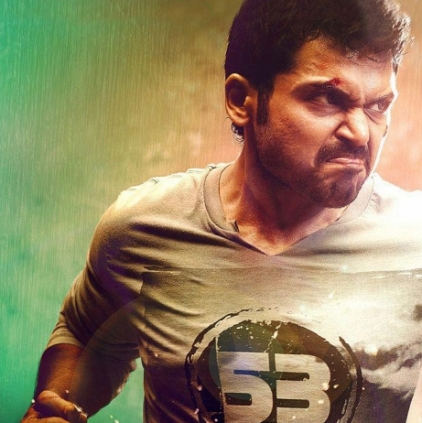 Siddharth's latest horror film, Aval, received a big support from the audience, for its content, scary scenes, and high technical brilliance.

Recently, Karthi on Twitter said that he hasn't watched the film yet. Siddharth replied to that saying that he would watch Theeran, and in turn, asked Karthi to see Aval. Karthi replied to that by saying, ":) I'm bloody scared to watch ur film after hearing about it from Friends. But will watch it over weekend. Pakka!"

*tweet is not spell-checked