Vikram's son Dhruv will be making his acting debut with the Tamil remake of Arjun Reddy and Bala will be directing it. Vikram will be unveiling the title of the film today evening, and his fans are very eager to know what it is.

A little birdie had hinted us that it will be a 3 letter word in Tamil and when we put our minds to it, few names that struck us were Chiyaan (சீ-யா-ன்) and Dhruv (து-ரு-வ்).

It is interesting to imagine how the title 'Chiyaan' would be. It was a moniker given to Vikram by Bala when they made the enormously successful 'Sethu'. Chiyaan's character in Sethu has quite a few similarities to Arjun Reddy's character. So it is safe to say that Chiyaan is a strong option but we best wait for an official announcement from Vikram himself.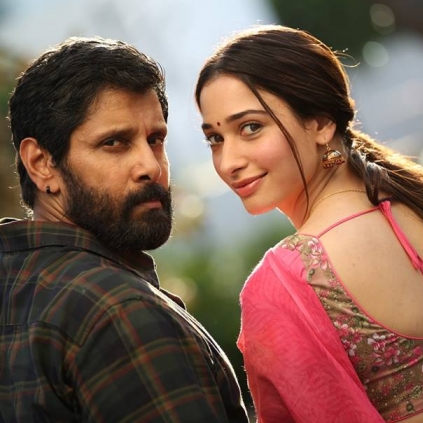 Actor Vikram's Sketch directed by Vijay Chander, has Tamannaah playing the female lead. The movie's teaser released recently and looks to be an out and out mass entertainer. Sketch has music by SS Thaman and is supposed to be based on car hacking.

The latest update is that dubbing artist MM Manasi has finished dubbing for Tamannaah. She has posted through her Twitter, "And it's a wrappp
Done with the dubbing of #Sketch for the ever gorgeous @tamannaahspeaks. Along with the captain of the ship @vijayfilmaker #MMManasi #Singer #VoiceOverActor #Sketch #kollywood #VoiceForTamannaah #DubbingUpdate #DubbingArtist #ChiyaanVikram".
*Twitter post is not spell checked