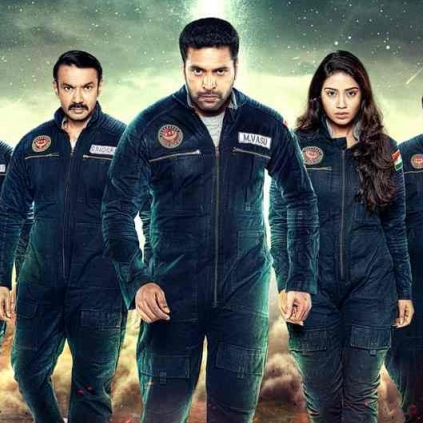 There's a new update on Jayam Ravi's Tik Tik Tik. The film is the first Indian space film and is directed by Miruthan fame Shakti Soundar Rajan.

It was said that the film might witness a postponement in the date of its release due to the heavy CGI involved. But it's officially said that the film's all set for release. Ajax, a Chennai-based VFX firm has completed the CGI of the film in a record-breaking span. The film has also been loaded in Qube. This was confirmed by the producer Nemichand Jhabak on his Twitter page. He tweeted, "#TikTikTik content locked and loaded in qube!!Thanks to #Ajax for finishing VFX work in record time!! "

With so much of expectations, the film is all set to release by January 26.


*Tweets are not spellchecked
Jayam Ravi's speech during the audio launch of Tik Tik Tik was huge, during which the actor spoke about almost all of the main crew and cast of the film. Some excerpts:

"This was a risk, like many of my films. But I had two belief in two things - one, that the press and media will support and help a novel venture reach the potential audience and two, that the people will support good content. This belief is the reason I took the risk.

When I told people that I was going to go a space film, they were sceptical. They asked me if it would be like Interstellar or Gravity, and they had doubts if it could be done here. But the director and producer, who trusted this idea - hats off to them.

I have a great appreciation for Nivetha Pethuraj's involvement; she strained herself physically and delivered no lesser than any other man on set, which is extraordinary. She is a fitness freak - some heroines are simply freaks - and never backed down from the challenges on set even as she got hurt, which happened quite often. I have never seen a heroine take so many hits during a movie.

I am truly happy for Imman having achieved this humongous feat of 100 films. I wish you (Imman) compose for 1,000 films - but don't. Keep it to 500. I say this because I want quality content from you, like you have been delivering all these days. But if you take this up as a challenge and go on make 1,000 films with quality content, there will be none happier than me."