Chennai City theatre owners and Tamil Nadu Multiplex theatre owners meeting happened in Chennai, today. The meeting was attended by 147 theatre owners.

After the meeting, Chennai theatre owners association President, Abhirami Ramanathan has issued a statement which reads as follows, "We will not close the theatres and won't support the strike which begins on March 16. We will not participate in the Strike. All Tamil, Telugu, Kannada, Hindi and Malayalam movies will be screened as always."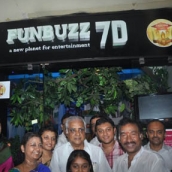 The Abirami Mega Mall has proved to be a one-stop destination for entertainment with its numerous screens and other forms of activities to engage the visitors. The latest addition to the mall is a brand new cinematic innovation which is a 7D screen. The entire technology and equipment was imported from Israel.

Popular music director Deva did the honors of inaugurating the screen and the first screenings featured a 20 minute 3D film which enthralled the gathering with its visuals and incredible sound. The 7D attempts to offer a unique wholesome cinematic experience to the audience.
Theatre association will not participate in film industry strike
People looking for online information on Abhirami ramanathan will find this news story useful.