Naam Tamilar party's chief and actor Seeman had met the press and media today, and he was questioned about Rajinikanth's silence over Mersal issue and the protests against Mersal in Karnataka.
Answering to the media, Seeman said, "Rajini will speak only during the time of war, this is not a war yet. What is the reason for stopping the play of Mersal in Karnataka? Films from America, China, and other international films release in our state and run successfully. But if a film from the next state within India is stopped and does not make a profit, how is it one India, one nation, and unity?"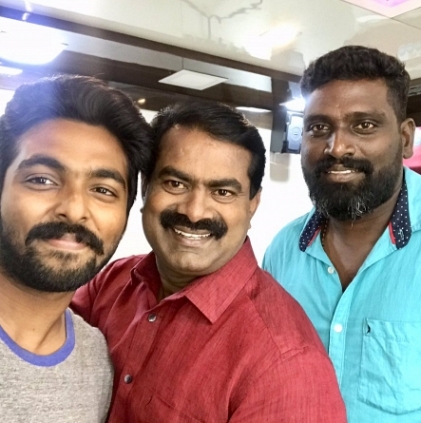 Popular director and politician Seeman, who is now actively seen in various political stages, has now got back to cinema for a brief time. He will now be seen in an important cameo role in G.V.Prakash's Adangathey, which is directed by debutant Shanmugam Muthusamy.

GVP took to Twitter to share this happy news. "#adangathey #seeman sir does a guest role ... last schedule on progress @shan_dir #Adangathey", he tweeted.

Meanwhile, Seeman is also said to be in talks with G.V.Prakash for a film, under his own direction.

*tweet is not spell-checked