Director Rajkumar Periasamy, who impressed us all with his debut film Rangoon, is getting hitched!

Ms Jaswini is all set to wed Rajkumar on May 25 in a ceremony in Chennai, with a reception ceremony the previous day, May 24.

Congratulations Rajkumar and Jaswini!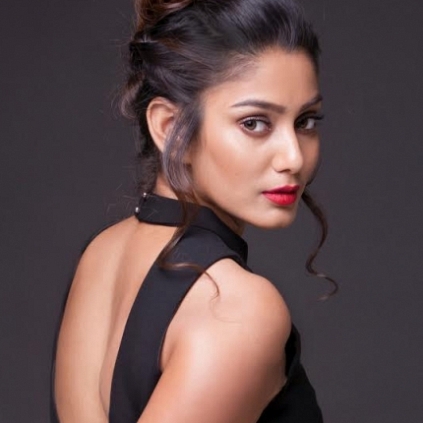 Rangoon starring Gautham Karthik and Sana Makbul is releasing on the 9th June and the film is directed by Rajkumar Periasamy and produced by AR Murugadoss and Foxstar Studios. We catch up with the beautiful Sana to know about working in her debut Tamil film and more.

How did Rangoon come to you?
It has been my dream to work in the south. I am a fan of South films and have watched many dubbed South films. Rangoon team saw my Telugu film and had asked for my pictures. Rajkumar sir came to Mumbai and I think I was the last girl in the list of audition. He described the character. He was looking for a girl who can carry off a rock star look with a girl next door appearance. I play a singer in the film and my character admires Jennifer Lopez and Beyonce. She is someone who is independent and takes care of her family too. They wanted some kind of an attitude in the look. I had a 2.5 hours of audition and finally, they called me to Chennai where I met Murugadoss sir. And that's how I was on board.
Team prepared me
The direction department had prepared me well for the character. When I came on the sets, I knew very well what I was expected to do. For someone like me who does not understand Tamil, it is important to have a total clarity to deliver and the team helped me in this. They kept me well prepared.
Shooting with Gautham Karthik
My first day of shooting was a montage bit with Gautham Karthik and most of my scenes were with him. He was so kind and helpful. He never made me feel that I don't know Tamil. Even when I fumble with my lines, he used to tell me- Chill! Relax! He was so supportive and made sure I was comfortable with what was happening. This kind of a rapport is essential to bring the right kind of feel on screen. I thank Gautham for this.
AR Murugadoss had said that you are going to be the next Simran. How do you feel about it?
I feel very happy. I am a diehard fan of Murugadoss sir and I admire him a lot. When he saw the rushes, he came to me and said I reminded him of Simran. I wondered if it was a compliment and he said- "Yes it's a compliment. She ruled the industry for 15 years". That moment, I smiled and thanked him. When he saw the whole film, he again told me, "You have done a good job". Coming from him is a great feat for me because he is my Guru. If he says, I can be next Simran; I want to make his words true. I want to rule the south film industry. I want to be on top. I will work on it hard.
Have you signed any other film?
I am yet to sign any new project. I am waiting for Rangoon's release. I am a strong believer of doing quality work than quantity. I am in talks with a few projects and I will decide after Rangoon.
We wish you the best Sana!
Jyothsna Bhavanishankar