Ocean's 8 stars Sandra Bullock, Cate Blanchett, Anne Hathaway, Mindy Kaling, Sarah Paulson, Awkwafina, with Rihanna and Helena Bonham Carter in the lead roles. The film is slated to release on June 8. Check out the trailer now: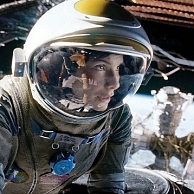 At a time when even Tamil movies struggle to complete a hundred days in theatres, a Hollywood movie has done it. Gravity, starring Sandra Bullock and George Clooney, reached the magic mark yesterday at Escape Cinemas in Chennai.
This Space Fiction leads this year's Oscar race with ten nominations. The director of the movie, Alfonso Cuaron, has already won the Best Director award at the 2014 Golden Globe Awards, the yearly precursor to the Oscars.
Gravity is still running to packed halls in the city - today's 4.20PM show in Escape's Kites auditorium is full. Those who haven't watched the movie yet, grab your tickets as early as possible, for this is one movie that is worth every penny of yours. As the movie's tagline goes, 'At 372 miles above the Earth, the view is Breathtaking.'
Oceans 8 official trailer
People looking for online information on Anne hathaway, Oceans 8, Sandra Bullock will find this news story useful.