Actress Nivetha Thomas who was last seen acting in Jr NTR's Jai Lava Kusa took a small break from acting due to her exam commitments. She took to her Twitter space to inform her fans about how excited she is to get back to work.

"To all my fans who've been asking about the next movie announcement,it will be made shortly :)After JaiLavaKusa I took some time off to complete my last semester of UnderGrad,meanwhile read scripts,heard narrations and, I'm kicked to start rolling in a bit!

Prema tho,
Nivetha 😊"

*Tweets are not spell-checked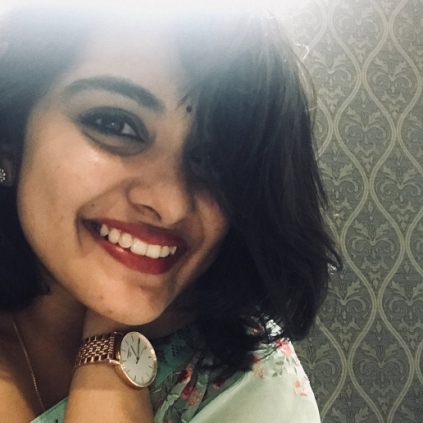 Nivetha Thomas, who's having a successful career in Tollywood, with films like Ninnu Kori, and Jai Lava Kusa, is also known for her performances in Tamil films like Papanasam, Jilla, and more.

The pretty actress engaged in a live Twitter chat with her followers, where she answered many interesting questions. Here's a compilation:

1. Who is your favourite co-star?
Kamal Hassan sir :)

2. What is your next project in Telugu?
Official announcement will be made shortly! :) very soon

3. I love to see you as a ghost character in horror movies. You can make many fright by your acting.
Haha! It's actually funny you said that.. cause in one of the Tele Serials I worked when I was 9, I did play a Ghost (possessed by one) :)

4. One word about Tarak
Tarak has the most exuberant personality.. his energy can light up the entire set! And he works with so much conviction :)

5. Which is your best movie?
Mmmmm! Gentleman,NinnuKori and Papanasam..Difficult to choose one :)

6. What would you be, if not a heroine?
I would still be in Cinema :) Doing Cinematography or direction, be a Set designer, or play different characters :) If not Cinema, then I'd be an Architect.. and more! :)

7. Dear Niviii... Want to see you in Tamil movies.
Sure! I'm looking forward to hearing good stuff too

8. About Prabhas.
No one can be a better Bahubali than him! His personality, and choice of films has made him the star that he is! :)

9. Your favourite Tamil film
Loved Aruvi recently :)

10. Your favourite music director
Hans Zimmer

11. Saree or Chudidhar?
Saree :)

12. What is your favourite dish?
Many! I love Biriyani :)

13. One word about Anupama Parameswaran
She's so sweet :)

*tweets are not spell-checked
Nivetha Thomas is all kicked to start working again after her exams
People looking for online information on Nivetha Thomas will find this news story useful.